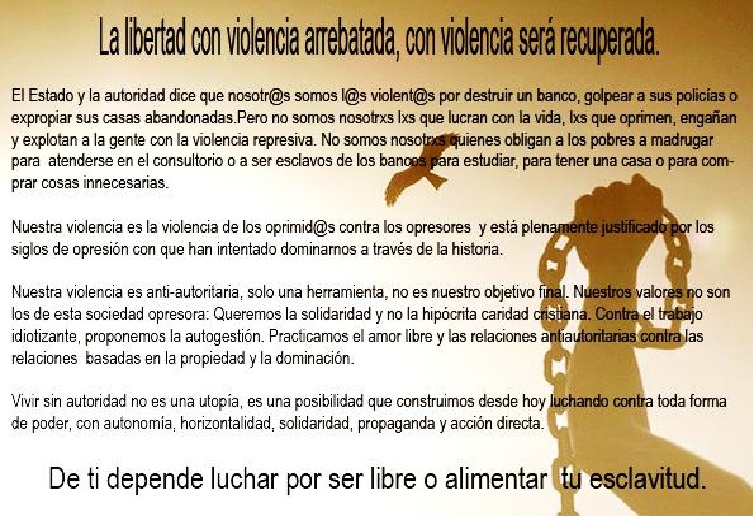 We share with you two propaganda stickers created by us to take them to the streets during the week of action suggested by the comrades from Contra Info.
One of the leaflets makes a defense of liberating anti-authoritarian violence, and the other one is a gesture and a call of solidarity for the comrade Luciano Pitronello who is now (August 10th) under house arrest harassed by the mainstream press, and waiting for a sentence that might be close to 10 years in prison. [August 15th: Tortuga sentenced to 6 years supervised release, pending appeal trial]
We decided to claim this propaganda to contribute with our ideas to the context of international struggle and comradeship advocating for the multiplicity of anti-authoritarian action (with one form not being more important that any others). On this occasion, we did two leaflets because of our way of understanding propaganda after the discussions among the comrades.
On one hand, one of the propaganda was focused on comrades, as a greeting to the imprisoned brother and as a call for solidarity actions; on the other hand, a collection of ideas to burst in society as an attempt to strain the submissive positions of citizens and give strength to the struggle of those who have started to rebel. This is what we, anti-authoritarians of praxis, find in propaganda, as a necessary tool for struggling, not for driving a flock of sheep, or quantitatively sum up militants, but because of the importance and simplicity of shouting and disseminating our positions and suggestions against the social order of authority, and infect other indomitable hearts with the fire of freedom.
We understand anti-authoritarian propaganda as a part of the daily offensive and as a tool of constant struggle in every action of our lives, printing anarchist leaflets, refusing to pay for public transport, using revolutionary violence against oppressors, expropriating in the super-market, creating anti-authoritarian relations based on affinity and free association of wills and complicities, etc.
That is why we have echoed the called for these 10 days of agitation, but we want to make clear that the struggle against repression takes part of the struggle against all kind of domination and that the anarchist international, coordinated and supportive actions must not only be in line with certain dates or campaigns.
Let our howls enter the cells to destroy the isolation of our imprisoned comrades.
Combative greetings to all those imprisoned and prosecuted by Power.
No one is alone, and certainly not forgotten.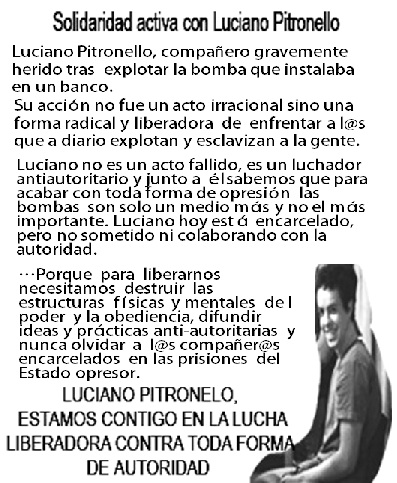 SPECIAL GREETINGS TO OUR BROTHER LUCIANO PITRONELLO. COMRADE, WE WANT TO TELL YOU THAT YOU ARE NOT ALONE AND THAT YOUR BRAVERY IS ALSO IN OTHERS WHO CANNOT SEE IN RESIGNATION NOR IN ACCOMPLICED SILENCE A WAY TO WALK THROUGH THIS LIFE IN PERMANENT TENSION. WE HAVE IDEAS, ANGERS, VARIED EXPERIENCES, PAINS AND JOYS… THAT IS WHY PROPAGANDA AND DIRECT ACTION ARE PART OF THE PRACTICE OF OUR FREEDOM AND TOOLS IN THE DAILY STRUGGLE WHICH WE ARE PROUD OF BRANDISHING…