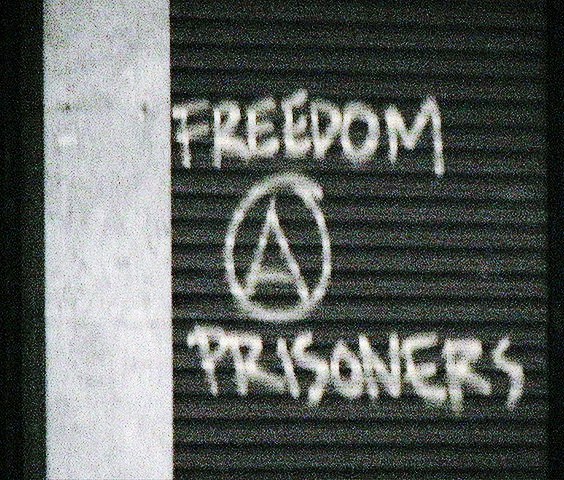 Giannis Skouloudis was released from prison on Friday afternoon, June 22nd, 2012.
The comrade had been remanded in custody in Avlona juvenile prisons since October 13th, 2010. Following the court decision on March 26th, 2012, for Giannis Skouloudis, Sokratis Tzifkas, Babis Tsilianidis, Dimitris Dimtsiadis and Dimitris Fessas regarding the case of arson on vehicles of the public electric power corporation (DEI), Skouloudis was sentenced to 5 years and 5 months imprisonment. He had already served 2/5 of his prison sentence, therefore he was due to be released from prison within days. Nevertheless, the judicial council delayed its respective decision, thus granted the comrade's release only after three whole months had passed.
Let us remind that 'the 4 of Vyronas' (Tsilianidis, Dimtsiadis, Tzifkas, Fessas) are currently on remand, awaiting further trials against them.
Sokratis Tzifkas is incarcerated in Diavata prisons ever since the trial for the case of arson on DEI vehicles had begun, in March 2012. Currently, he is not allowed to receive books (literature, etc.) by post, while all letters that are sent to him—as in the case of many other prisoners—are first 'checked' in the police headquarters of Thessaloniki (GADTH).
For this reason, a post office box has been set up for those wishing to communicate with Sokratis Tzifkas: Postal Box/Τ.Θ. 8, Postal Code/Τ.Κ. 57300, Halastra, Thessaloniki–Greece.