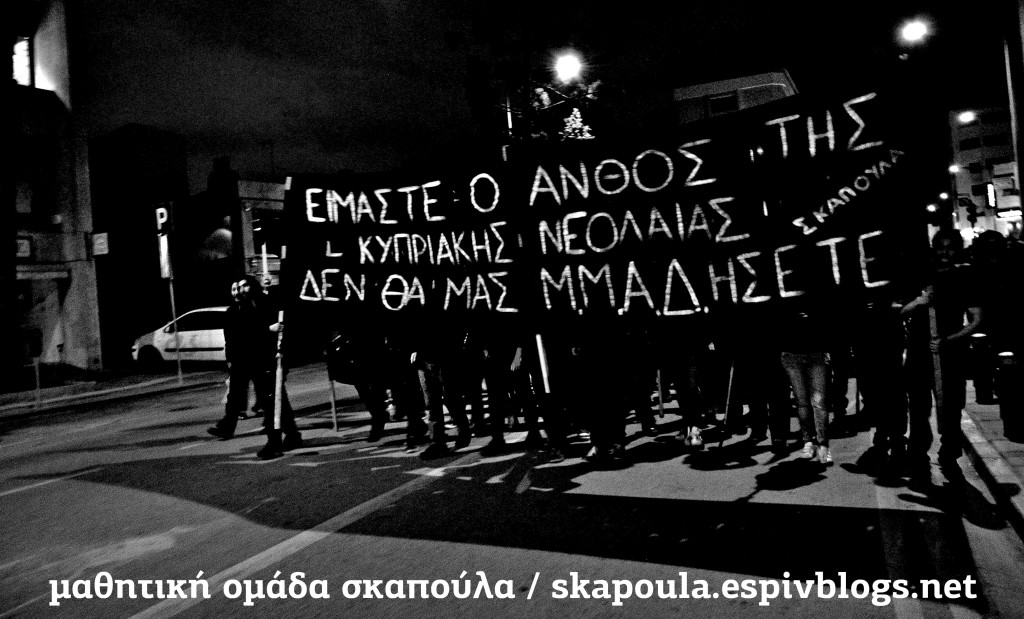 For those who do not know us, we are the anti-authoritarian student group Skapoula from Cyprus, based in Nicosia. Our call is mainly addressed to similar student groups and undertakings in Greece, while we already made some contacts with school students from Turkey.
Our aim is on the one hand a more general networking with other struggling school students in our surrounding places, and one the other hand a coordination project concerning antimilitarism actions.
The army plays a comparable role in our lives, in Cyprus, Greece and Turkey, and this summer we want to raise our voices together, also as a starting point for joint activities and struggles. We suggest writing a communiqué first, which will deal with army and nation from an anti-authoritarian/proletarian standpoint, and will be undersigned by student collectives and comrades school students from the three countries.
We are also open to any proposals for the coordination of antimilitarism actions to be held in June 2012 (or later on). An email has been sent to few student groups that we had in mind, but due to our limited contact we post this call here, too, to whom it may concern.
You may contact us at skapoula@espiv.net

With comradely regards,
members of Skapoula
The group's banner, above, reads: We are the flower that blossoms out of the Cypriot youth (after the 1990s slogan in Athens, 'We are the flower that blossoms out of the Greek youth') – You will not pluck us (where the acronym MMAD, a play of words in the Greek word for 'pluck', stands for the emergency response motorized unit of the Cypriot police).