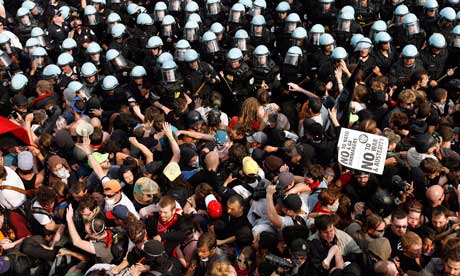 In the context of the 2012 NATO Chicago summit, on 20th and 21st May of 2012, many counter-protesters were detained during anti-NATO protest marches. Several anarchists were arrested 'preemptively'. They were accused of scheduling and preparing militant actions against the summit meeting of the world's largest warmonger. There are yet no reliable information from friends and comrades who were actually there, but due to the need of dissemination of some facts about the arrests, here follows a first summary by ABC Berlin.
Late on Wednesday evening of the 16th of May, the cops stormed a house in the neighborhood of Bridgeport in Chicago, without showing an arrest warrant or search warrant, and arrested nine people. Six were released without charges on Friday. However, three were remanded in custody, and are now being subject to investigation and threatened with charges of 'conspiracy to commit terrorism, material support for terrorism, and possession of explosives or explosive or incendiary devices.' They are accused of having planned to attack with Molotov cocktails four cops' stations, the local campaign headquarters of US president Obama, the residence of Chicago mayor Rahm Emanuel and other targets in the city. All three were described by the prosecution authorities as self-proclaimed anarchists, having travelled together from Florida several weeks before the scheduled anti-NATO protests in Chicago. During the police raid in the Bridgeport house, a device was confiscated by the cops, who now claim that this was used to make Molotov cocktails; nevertheless, according to the residents, this was simply a kit for making beer at home. A bail bond of 1.5 million US dollars cash was set for each defendant: a total amount of 4.5 million (we thank our comrades from War On Society for additional info).
Meanwhile, there were reports about two persons who have turned up earlier this month in Chicago and soon became involved in the preparations against the NATO summit. Since the arrests, both are gone from the city, so there has been speculation that they were police informants. The bourgeois Press has circulated that the cops had been informed weeks ago that arson attacks against the State and the Capital were planned for the anti-NATO protests.
On Thursday, two more people were arrested, accused of having planned actions with Molotov cocktails. These two are also held in custody.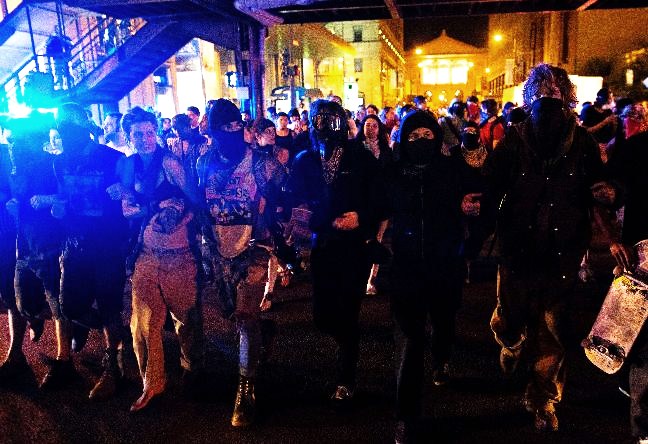 You can protest about this set-ups with rallies and direct actions at embassies or consulates of the NATO member States, namely United States, Canada, United Kingdom, Germany, France, Italy, Spain, Belgium, Bulgaria, Croatia, Czech Republic, Denmark, Estonia, Albania, Greece, Turkey, Hungary, Iceland, Latvia, Lithuania, Luxembourg, Netherlands, Norway, Poland, Portugal, Romania, Slovakia and Slovenia.