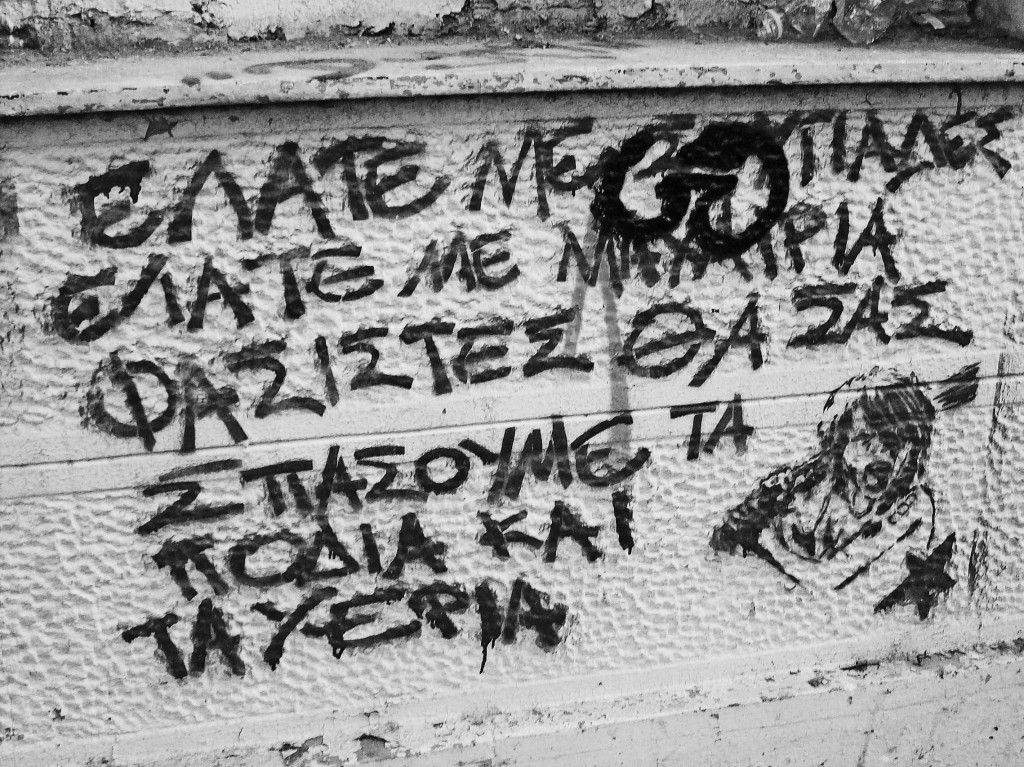 Announcement by antifascists on the incident of the attempted appearance of neo-Nazi thugs from Chrissi Avgi/Golden Dawn in the local channel 'Kriti TV'
On Friday, March 2nd, at about 15.00 in the afternoon, a group of comrades attacked members of the Golden Dawn in the industrial area of Heraklion, after receiving related information that the bastards had gathered there. We were already aware of their presence in the city since the beginning of the week. The fascists were at 'Kriti TV' channel because of a speech which the head of the Crete branch of the neo-Nazi party was about to give publicly. After a small scuffle, the Nazis ran to hide in a restaurant, co-located with the TV station, from where the thugs watched us smashing the door of the store in our attempt to storm in the building, and destroying one of their private cars, too. The reaction of the Hitlerians was limited to threats from a safe distance, while they put objects behind the door and called the cops on the phone.
The attempted appearance of goldendawnies in the premises of 'Kriti TV' follows their provocative presence in the village Viannos, about two weeks ago, where members of this legal — as they claim — party attacked an immigrant and threatened him with gun.
After this last incident, we must make clear
/to fascists:
As you understood also in June, your public or non public presence in Heraklion will not be tolerated, not now, not ever. You will receive the appropriate response in any of your attempts to step foot in the city.
/to mass media in general and to 'Kriti TV' in particular:
Giving voice to Hitler's descendants — and so recognizing them as another, albeit extreme, but morally legitimate political concept — means that you automatically reward fascism. From now on, everyone assumes responsibility for his/her actions.
/to the community of Heraklion:
Because we live in the era when all kinds of flowers will bloom and because some of them hide poisonous thorns, even the expulsion of individual fascists from schools, playgrounds and neighbourhoods is a case of anyone who does not share Hitler's visions for humanity.
Those primarily responsible for the fact that the War against fascism is so long-term, are those who occasionally offered fascism Peace.
Antifascists from Heraklion