http://www.youtube.com/watch?v=D_ffXxEEOeI&
On Thursday afternoon, March 1st, a group of nearly 20 anarchists and antifascists blocked the traffic on a central avenue in Moscow, near the metro station Krasnye Vorota ('Red Gate'), to protest the recent police crackdown in several Russian cities. One of their banners read: 'Solidarity with antifascists of Nizhny Novgorod.'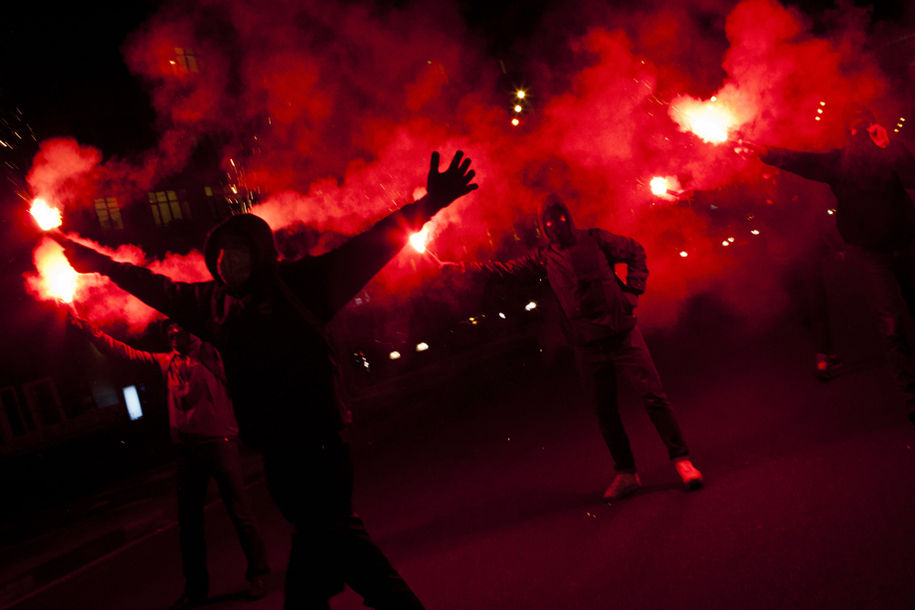 The group's communiqué follows:
We are outraged.
The reason for our rage is the acts of the police that persecute antifascists. Such things have happened before, but now the cynicism and the impertinence of the police have gone through the roof. Recently, a wave of repression against our friends spread across several cities, such as Ivanovo, Kirov, Nizhny Novgorod and Moscow. The last of these cases was the arrest of the Muscovite antifascist Aleksej Olesinov ('Shkobar') on February 13th. The pretext for his detention was a fight in a club, which happened in December 2011, when several security guards got injured after openly expressing Nazi views. During the investigations, the police officers behaved in their usual manner; without thinking twice, they arrested the person whose antifascist background was known to authorities. This time such a person was Aleksej, who's been repressed more than once. With a similar way, in the recent past, the activists Solopov and Gaskarov were arrested due to an action in front of the premises of the municipality administration in Khimki [militant action of anarchists, ecologists and antifascists in the summer of 2010, as part of the protests against the Khimki deforestation due to highway construction]. The next trial session against Aleksej Olesinov will take place on March 18th in Basmannyj district court of Moscow.
On February 24th another antifascist, Anton Fatulaev, was sentenced to 4 years and 2 months imprisonment. Anton attacked and beaten up seven neo-Nazis, according to the investigating authorities. We address our symbolic action to the public. We must not offer any opportunity to politicians and police officers, who live on our expense, to behave impudently. It is our inaction that gives them free hand; it is our silence that enables them to continue to oppress us.
We address our symbolic action to the antifascists. We must not stop. Only direct actions and firm positions in relation to the Nazis and the State will clean up our streets. Nothing must be forgotten or forgiven. The arrests of our friends must not be accepted as seemingly legitimated. We address our symbolic action to the Nazis. Think again if life and health are worth sacrificing for abstract ideas, based upon hatred. Your goals are blurry, and your authorities are betraying you for their own benefit.
Muscovite antifascists
photos from the action also here
Currently, Aleksej is remanded in custody. You may donate for legal costs through Anarchist Black Cross of Moscow; more details are available here
2009 solidarity action for Aleksej 'Shkobar' Olesinov (imprisoned also then)