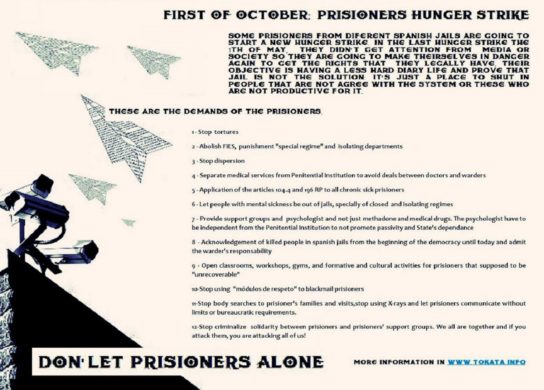 received 01.10.2018
FIRST OF OCTOBER: PRISIONERS HUNGER STRIKE
Some prisioners from diferent spanish jails are going to start a new hunger strike. In the last hunger strike the 1th of May, they didn't get attention from media or society so they are going to make theirselves in danger again to get the rights that they legally have. Their objective is having a less hard diary life and prove that jail is not the solution: It's just a place to shut in people that are not agree with the system or these who are not productive for it.
These are the demands of the prisioners:
1-Stop tortures
2-Abolish FIES, punishment "special regime" and isolating departments
3-Stop dispersion
4-Separate medical services from Penitential Institution to avoid deals between doctors and warders
5-Application of the articles 104.4 and 196 RP to all chronic sick prisioners
6-Let people with mental sickness be out of jails, specially of closed and isolating regimes
7-Provide support groups and psychologist and not just methadone and medical drugs. The psychologist have to be independent from the Penitential Institution to not promote passivity and State's dependance
8.-Acknowledgement of killed people in spanish jails from the beginning of the democracy until today and admit the warder's responsability
9-Open classrooms, workshops, gyms, and formative and cultural activities for prisioners that supposed to be "unrecoverable"
10-Stop using "módulos de respeto" to blackmail prisioners
11-Stop body searches to prisioner's families and visits,stop using X-rays and let prisioners communicate without limits or bureaucratic requirements.
12-Stop criminalize solidarity between prisioners and prisioners' support groups. We all are together and if you attack them, you are attacking all of us!
More information in www.tokata.info
DON'LET PRISIONERS ALONE !!!