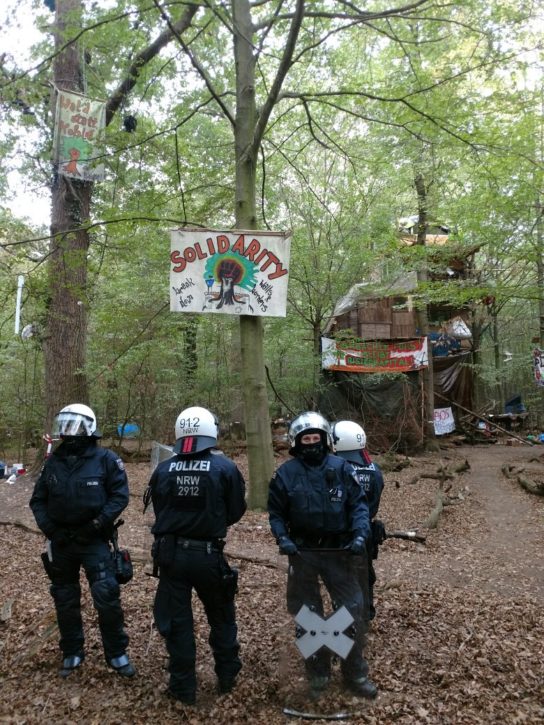 Call for reoccupation on a massive scale in Hambach Forest. Callout for international solidarity

Right now a large scale police action in the Hambach Forest occupation is taking place! The protest camp fighting against energy company RWEs destruction of land and climate must be sustained until the last tree is standing! The eviction of the occupation is coming ever closer, and the struggle is becoming clearer every day now.
The Hambach Forest is occupied, because the big business concern RWE wants to clear and bulldoze it away. It wants to use the coal which lies underneath the forest to generate electricity and make money. The forest is occupied to draw attention to the consequences of lignite mining, to hinder the destruction of the forest in a direct way and to make it as hard and expensive as possible for RWE.
You can read more about how to be informed on the blog hambachforest. Come into the forest, whether alone or with your affinity group, doing solidarity (climbing actions, painting banners, hanging up posters, sabotage, demos, lectures… whatever, everything goes!
Climate change does not stop at the borders, and neither does our movement! Therefore we are calling for actions of solidarity to take place all over Germany, all over Europe, and all over the world!
The Hambach Forest occupation has become a focal point in the struggle for climate justice worldwide, and now, as we are preparing for the struggle to come, we need all your support!…)
So whether you are climate activists, anarchists, anti­police­brutality organizers, or you simply believe in fighting for justice, the callout is clear:
Organize yourself, take action, and show your solidarity