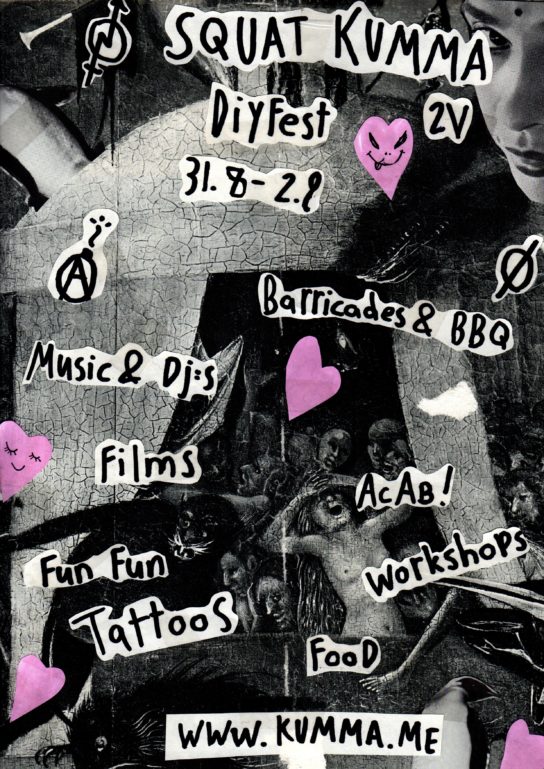 Squat Kumma celebrates its 2 year journey in august with a hardcore gig on saturday 25.8 and a DIY-festival on 31.8-2.9. At the DIY-fest there will be workshops about tattoos and "artvandalism", food, gigs, art exhibition and more!
Two years ago a group of squatters decided to squat an empty house in Malminkartano, Helsinki and create a space for self-organized and free from oppression. Since then the squat has hosted numerous events; gigs, peoples kitchens, movie nights, workshops etc.
What does Do-It-Yourself mean for us?
DIY for us is anti-capitalism, squatting, taking back our lives, solidarity, direct action and many other things. It is not only a theory but an action that we want to spread right here and now.
We dont want to create a consume-based event but to create a space for sharing skills, learning from eachother, experience and emancipate. No-one has to be a expert to participate because DIY for us is also Do-It-Together.
*SQUAT KUMMA DIY-FESTIVAL PROGRAM*
OPEN CALL FOR ARTISTS:
Squat Kumma invites graffiti writers and all sorts of artists to decorate Kumma for upcoming diy festivals on thursday 30.8
send email to kumma@protonmail.com or just come to the house afternoon!
PROGRAM:
Friday:
17:00 "Artvandalism" workshop
How to cut stencils or to use spraypaints? Whats the best way to make wheat paste or make paint bombs? In this workshops we go through basic practices of art vandalism and why reclaiming cities walls should be important for anarchists.
Workshop is free
20:00 Music and dj:s 3-5€
KUUMOTUKSET FEAT VIOLA (PSYCHOTIC RAP)
AFF (HARDCORE TECHNOMETALLC PUNK EXPERIENCE WRAPPED IN REGGAETON)
FLORALL ( cutest in the game // soundcloud.com/florallll )
Saturday:
15:00 Pizza
Squat kumma starts the day with pizza
16:00 Stick n poke tattoo workshop.
Practicing and doin handpoke tattooing. Come and make tattoo for your friend or on yourself. Kumma will provide tattooing materials so we wish that people would donate little bit to cover the costs of inks, needles,glowes and so on. However if you dont have any money thats not a problem!
19:00 Film documentary: If a tree falls
Trailer www.youtube.com/watch?v=QAGxy85R380
+ documentary about social center satama.
Sunday:
14:00 Fleemarket/Freemarket/freeshop/Distro(s)
Come and bring your old clothes, distro, whatever! There will also be kummas own zine distro.
16:00 Building workshop
Kumma will provide materials for creatin. You can build art
installations, furniture, whatever you want!
17:00 Food
18:00 Playing basketball, football etc
xoxo
Changes in the program are possible!
Welcome to Kumma in late august!
If you have questions or want to help organizing the festival please contact kumma (at) protonmail.com
kumma.me