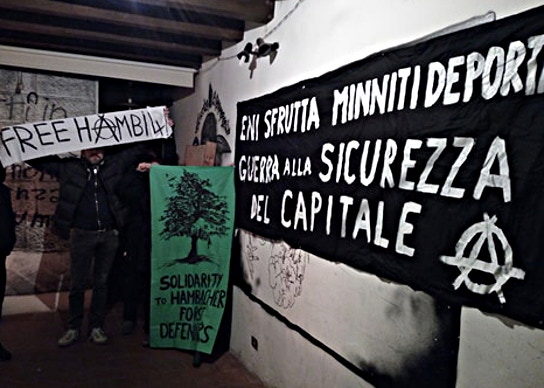 This campaign is complicit and supportive of the one which, since 2012, has become one of the symbols of the fight for the liberation of the Earth from the chains of capitalism: the resistance to defend the Hambach forest!
Since 6 years people from all over the world, through blockades, sabotage, and occupation of trees, have give birth to a grassroots resistance to oppose the action of devastation carried on by the energy corporation RWE which, since the end of the 70's has colonised one of the last virgin forests, converting Hambach into the most extended open-cast mine for the extraction of lignite (brown coal) in Europe.
Earth Riot invites you to a series of fundraising initiatives on the subject of Earth liberation, which aim to support those who everyday oppose to the dynamics of repression and domination typical of the capitalist system.
Earth Liberation is Total Liberation!
It is not just a captivating slogan, but it is the essence of the fight for total liberation which, in order to be beneficial and feasible, it has to go through a process of restitution to Earth of everything the capitalist system has stolen in time, depriving every living being of real freedom, in the name of fake progress and of that presumed supremacy imposed by anthropocentric culture and money god."
EVENTS CALENDAR
11/4 – Torino – 8pm, via Baltea 3 – MercoledìXtra-Or Edinari, Support Hambi Resistance: Earth Liberation is Total Liberation
21/4 – Modena – 8.30pm, Stella Nera via Falloni 67 – Sound of Silence vol. 3
12/5 – Brescia – 19pm Circolo Anarchico Bonometti via Borgondio 6 –
Support Hambi Resistance: Earth Liberation is Total Liberation
8/7 – provincia di Milano, Villa Fiorita (Cermusco)