Received 21/12/2017: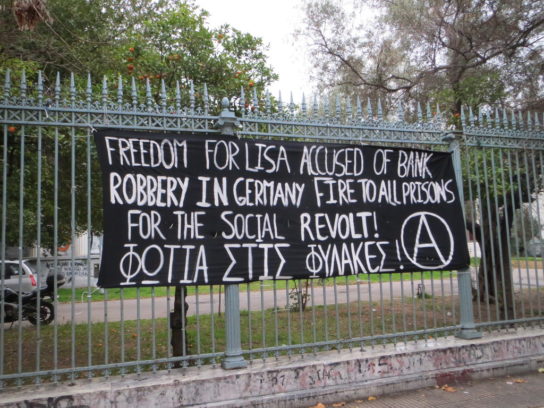 Banner dropped in Polytechnic University in solidarity with Lisa, accused of bank robbery in Germany.
Today, 21st of December, taking part on the International call for solidarity with the comrade Lisa accused of bank robbery in Aachen, Germany, we decided to hang a banner in the Polytechnic University, in Exarcheia, Athens.
The last 7th of June, she was sentenced to 7 years and 6 months in prison by the judge and the prosecutor of Aachen. Now she's waiting for the appeal maid by her lawyers. If the court accept it, it means that she would eventually have a second trial.
The fact that our comrade is in prison makes us even more angry, but we know that all this revenge by the state is making us stronger everyday reaffirming our ideas.
We will keep on fighting, to remember all our comrades in prison. We have clear in mind who are our enemies. This is our decision, to fight against the states, police, judges, prosecutors and all those who are part of the system that is making people life miserable. We won't stop, this is about our life, this is about our struggle!
Here is a small sign of solidarity with the comrade, but it's also a claim to keep going with the struggle inside prison as in the streets. We'll never let any comrade alone in the hands of the state.
Until all are free, strength, fire, love and fight!
We want her free, we want her in the streets!
For anarchy!
To write to Lisa:
Lisa, nº 2893/16/7
Justizvollzuganstanlt (JVA) Köln
Rochusstrasse 350
50827 Köln (Germany)