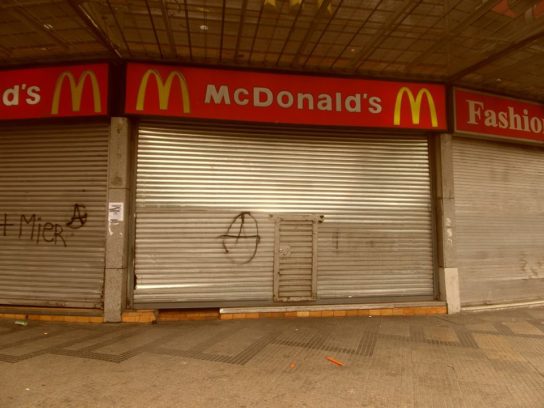 On October 18th 2014, from 2pm, an animalistic protest against McDonald's was held from Plaza Italia to Los Héroes in Santiago.
We calmly marched as a small bloc of punks and anarchists, who joined together with the desire to participate in that protest generating a spontaneous destructive revolt against the industry of plastic food and death of animals. When the crowd (alongside the bloc) reached the corner of Santa Rosa with Alameda St. (where a McDonald's is located), animalists began shouting at the salaried slaves of that place, who ended up lowering the security shutters. That's when a few hooded youths and others with faces uncovered (among them the compa Javier Recabarren) started kicking and hitting the shutters with sticks and whatever else they could get their hands on, until they managed to bend a shutter to make their way in through a hole. However, this action was prevented by cops who arrived at that moment, making the comrades disperse among the crowd.
The police, who outnumbered the protesters, began to chase the hooded ones, until two cops caught Javier. Several people tried to de-arrest him, but the cops pushed them away with baton charges, injuring several comrades. This action generated more hatred among the hooded ones towards the disgusting cops, so we rushed to the police checkpoint (where Javier was) and the cop bus, where more compas were detained. In a moment of despair, the cops were unable to control the revolt, and that's when Javier opened the door and got off the cop car running and mocking the authority, leaving the bastards totally humiliated.
Javier rushed towards the crowd, disappearing in it (most people cowardly advanced without giving aid to what was happening behind; which is typical), while all of the comrades of the small bloc who remained un-arrested scattered. I personally noticed that the cops were desperately searching for someone among the protesters, and that's when I was approached by Javier and a punk comrade. Javier told me: "sibling, I escaped from the patrol car" and upon saying those words the compa let out a laugh. Then he told me: "… but I'm being followed; they're still looking for me; cover for me." When I realized that the comrade was being followed, I immediately told him: "Compa, put yourself next to me to pass unnoticed, and split from your comrade; you'll meet later in a little square." And so we walked among the crowd, and as he was small, Javier hid himself between my clothes and the mass. The cops didn't manage to catch him.
Javier laughed because he told me it was easy to escape from the cops, who idiotically left the door of the car unlocked, but he was a bit anxious as they were looking for him. Shortly afterwards we arrived at the agreed little square and saw that his punk comrade was also able to get away from the cops, as he was there waiting for him.
The grinning smile of Javier Recabarren, having escaped arrest, turns out to be a good subversive memory of revolt against all forms of Power and authority.
JAVIER RECABARREN PRESENT
… in the living memory and action for Total Liberation!
Javier Recabarren, an 11-year-old anarchist comrade, vegan and staunch defender of the struggle for animal liberation, fell dead on March 18th 2015 after being hit by a Transantiago bus on Radal with Alameda St. in Santiago, Chile. To find out more about the comrade's life, you may read the "Publication in the rebellious and insurgent memory of Javier Recabarren" in Spanish; a fanzine which includes a compilation of words and actions in response to a callout one year after his death.
in Spanish, Italian, Portuguese