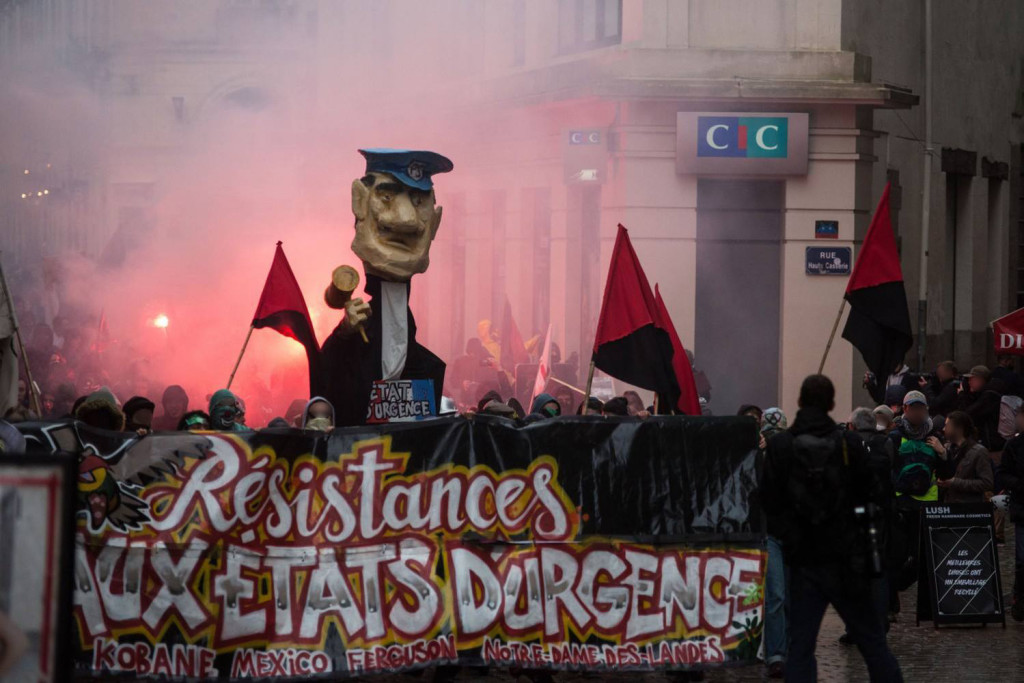 Published on February 25th via MIA:
No injuries, nor arrests, instead numerous facades revisited
Nearly 400 people marched in Nantes in the context of the week of resistance. The lead banner, decorated with the cartoon bird "the king and the mocking bird", called for resistance against the states of emergency, whilst referencing Kobane to Kurdistan, Ferguson to the United States, and Notre-Dame-des-Landes in France.
300 police offices were supposed to prevent access to certain areas but they couldn't prevent the redesigning of facades of some public buildings, banks, estate agencies and the Socialist Party office located on the path of the demonstration.
Demonstrators dressed in black, masked, and some with gas masks – with fire-extinguishers, paint and egg bombs – were able to indulge in paint and political graffiti on the walls of the city.
The police used several tear gas grenades following throws of projectiles, but the procession continued it's course despite the gas that momentarily seperated the demo into two. The shields carried by demonstrators then formed a wall intended to protect the demonstrators from the police's flashball and LBD-40 shots.
The police tried to tighten pressure around the march in the centre's little streets, but without success. The BAC [Anti-Crime Brigade] were even fightened when they found themselves on the route of the demonstrators.
Without injuries nor arrests, the demonstration dispersed at Nefs, with €1 beers.
Photos via Le Chat Noir Emeutier | in German | Italian