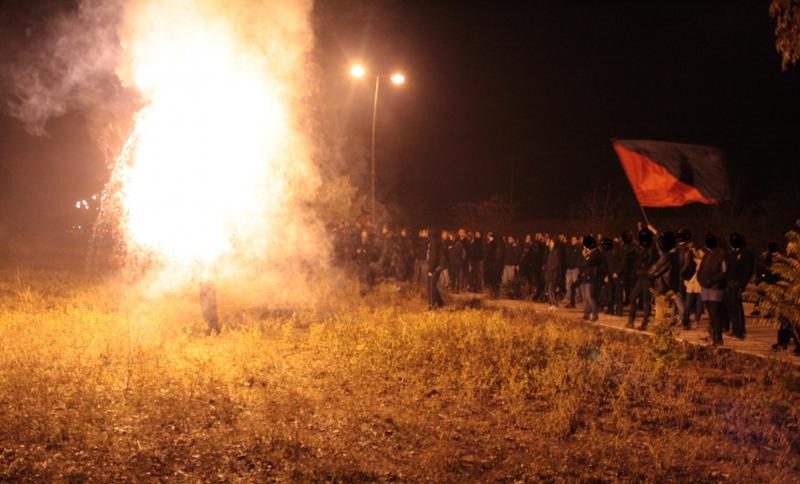 On Wednesday, November 20th, 2013, at around 6pm, nearly 200 supporters gathered at the back of the prison in Larissa, where we had visual contact with the cell of comrade Spyros Stratoulis.
Spyros is currently at the 11th day of hunger strike that he initiated on November 11th to denounce his penal treatment by authorities, demanding his immediate acquittal from the retaliatory and unfounded prosecution against him, which has resulted in the denial of exit permits (despite the fact that he was granted days of leave from prison regularly before), but also his right to release on parole.
We stayed one and a half hour outside the prison. We chanted slogans and threw firecrackers trying to send a strong message of solidarity and support to Spyros Stratoulis. Even for a while, we broke the walls that divide us, and joined our voices with those of the imprisoned fighter and other prison inmates.
We also had a sound system, so we were able to read texts in solidarity with Spyros. The gathering was supported by comrades from the cities of Thessaloniki, Volos, Karditsa, Kozani, Xanthi, Veria, and Larissa.
THE PASSION FOR FREEDOM IS STRONGER THAN ALL PRISONS
NO ONE WILL BE LEFT ALONE IN THE HANDS OF THE STATE