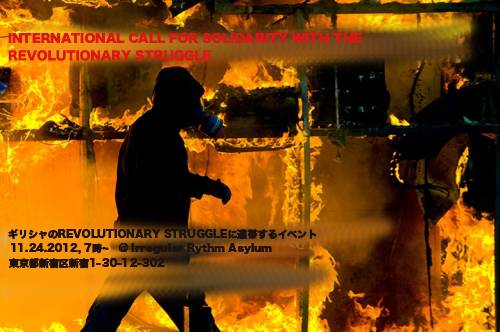 A free event of international solidarity will take place on Saturday, November 24th, at 19.00pm (local time) in the anarchist infoshop Irregular Rhythm Asylum, which is located on 1-30-12-302 Shinjuku, in the special ward Shinjuku-ku of Tokyo, Japan.
A comrade from Switzerland, who is an active member of the Bremgarten Cultural Centre, will present the particular anarchist project at the formerly squatted KuZeB, thus opening the discussion.
This evening is a chance to get together and talk about the anarchist urban guerrilla group Revolutionary Struggle as well as the current situation in Greece, in the context of the callout for international solidarity and action by the Athens solidarity assembly (contact mail: RScase[at]espiv[dot]net). Another topic of discussion may be the general strike against austerity that took place on November 14th in several southern European countries.
The main event is organized by Tokyo-based anarchists, who will read excerpts from proclamations of the Revolutionary Struggle group in Japanese. Furthermore, they will make a reference to the chronology of action against the State/Capital by the same group, and share information with the attendees about the trial sessions that have been held in the terror-court of Koridallos prisons so far.
Greek-speaking solidarians have already begun to translate several responsibility claims of the Revolutionary Struggle group into Japanese, in collaboration with Japanese-born comrades. This compilation of translated texts is expected to be finished by February 2013. The Irregular Rhythm Asylum will help in the printing of the edition.
When the discussion on 24/11 reaches an end, anarchist comrades intend to carry their banners and chant slogans in order to hold a demonstration to the Shinjuku Station, along with all people gathered in the infoshop. So, you are invited to participate in the event and then take to the streets.

SOLIDARITY CROSSES THE BORDERS
Sources / Contact info: i, ii, iii — Map in both Japanese and English here.