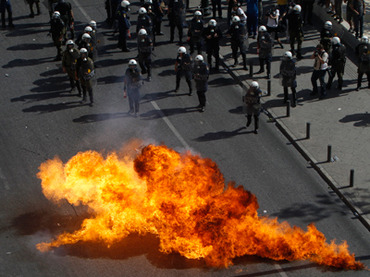 October 19th
During Friday's court proceeding, the seven arrested demonstrators (still held in custody) were taken to Evelpidon courts 'escorted' by cops of the police headquarters.
While they waited in the prosecutor's office next to their relatives and lawyers, the mother of one of the arrestees wished to hug her son. However, a female cop from the prosecutor's office immediately pushed the mother away, saying that any physical contact is forbidden.
When the son protested, one of the male guards of the police headquarters rebuked him. The arrestee protested again, more angrily, and the same cop pulled out his gun waving it threateningly at him! All attendees froze at the sight of the weapon. Nevertheless, the arrestees themselves started yelling enraged, together with one of the defense lawyers who strongly rebuked the guard, before entering the prosecutor's office to formally complain about the cop's conduct. The prosecutor was, not amazingly, annoyed by the lawyer's remarks and completely disregarded the incident.
Another solidarity gathering in Evelpidon courts (building 9) is called for Monday morning, October 22nd, by 11am, when the seven arrestees will stand before an examining magistrate (aka interrogator). It must be emphasized that at least five of them are threatened with felony charges.
All seven arrestees were taken back to the Athens police headquarters, where they will be locked up until Monday. It is of great importance that people who participated in the 18/10 strike demo send to imc-athens-editorial@lists.indymedia.org any photos, videos or audio material which may prove useful for their legal defense.