Moments of comrades' liberation from the courthouse:
http://www.youtube.com/watch?v=NLBlFbaoX3A
Slogans heard:
"Solidarity is the peoples' weapon; war on the bosses' war"
"The passion for freedom is stronger than all prisons!"
Early in the morning of Monday, October 15th nearly 150 comrades marched from Parartima squat and arrived in front of Patras courts at about 8.30am, to show their factual support to the four comrades who were held in custody since October 11th and threatened with felony charges because of fascists' perjury.
By 11.30am, under heavy rain, the number of solidaritarians outside the courthouse was more than 400. The four arrestees (three adults and one minor) stood before an examining magistrate and a prosecutor. The last hostage was freed at about 15.00pm. They were all ordered released under restrictive terms, pending trial —namely ban from exiting the country and obligation to sign in a local police station once a month (the minor was ordered to present himself to a juvenile probation officer).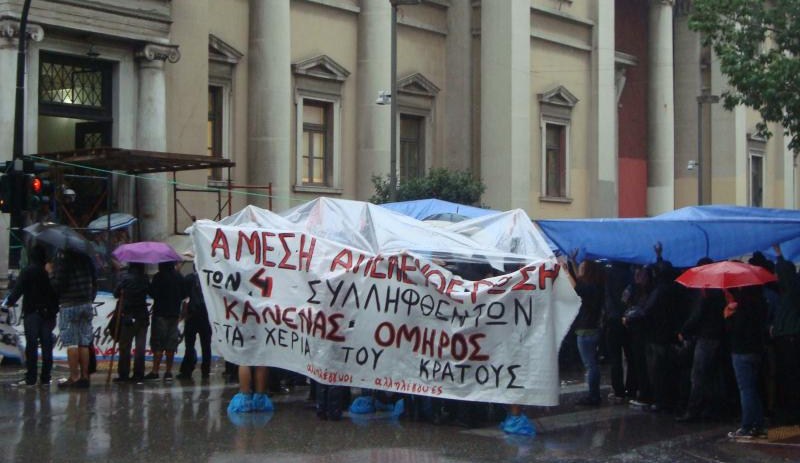 Not even for a moment were the comrades left alone. Prior to their court hearing, solidarity gatherings took place outside the Patras police headquarters, and flyposting and distribution of texts were carried out in the city's neighbourhoods. Also, on Saturday, October 13th the studio of the local TV channel 'Super B' was occupied by anarchists/anti-authoritarians from various collectives, who protested against the fascist attack in Psila Alonia square on 11/10 and the arrest of the four comrades in another location. Here is the video that was screened on air, interrupting the 8.30pm news bulletin, with a statement by the collective Perasma ("Passage", from Maragopouleio squat):
http://www.youtube.com/watch?v=MjWOBHElQug
Sources: Patras Free Radio Katalipsi ("Squat") 93.7FM,
Anarchist Group Dysinios Ippos ("Restive Horse"), Indymedia Athens
BASH THE FASH! SOLIDARITY IS OUR WEAPON!