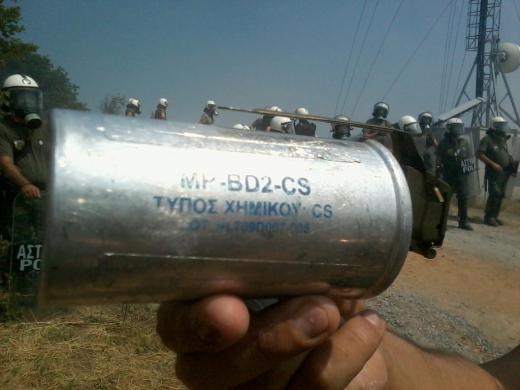 OUR STRUGGLES HAVE NO FATHERLAND
As long as we are part of this struggle, we stand not only against the environmental destruction but also against the State and the Bosses, both local and foreign. Their country of origin is of no importance, since their intention is profit and not "development of the region" or "national interest".
In a period that everyday survival becomes a struggle and ever larger parts of society are being impoverished, the interests of the powerful are christened national, destruction is named development and the threat of society's fascistization is becoming a reality.
What is at stake for our struggle against the gold mines, is not whether they will be under a Greek or a Canadian company's control or if they're under the state's control, but that they should not even exist. In this scope defending "the forest, the water and our lives" is not related with any sense of "patriotic duty". Because, just as the bosses' profits, the dignity of those who resist knows no borders.
What is more we never thought of putting our hopes in the Council of State, its role as a part of the State is not to block but to facilitate the functions of the capitalist system. Besides, even the Constitution is clear. When it comes to national economy and hence profitability, the environment and our lives come second.
This struggle just like any other fight should rely on our own forces, and not wait for a deus ex machina to save us. We perceive ourselves as part of the struggles that are currently given worldwide against the oppression of our lives and environment.
FROM PERU TO INDONESIA AND FROM CANADA TO CHILE
THE STRUGGLE IS ONE

Open Coordinative of Thessaloniki against the goldmines