On July 10th, just one day after a direct action was carried out successfully by antifascists in the town of Agrinio, a very dangerous arson attack on Apertus squat took place. Here follows the squatters' communiqué: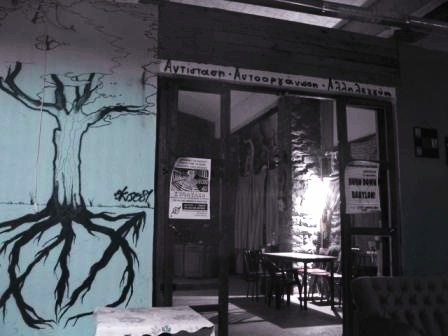 In the night of Tuesday, July 10th, shortly before midnight, the free social space of Apertus squat was attacked with an explosive-incendiary device, thus suffering damage. Furthermore, fire erupted in the squat's yard. The space at that time was empty, so nobody got injured. The explosion was heard throughout the area of Aghios Dimitrios. Neighbours rushed to the building, extinguished the fire and immediately alerted people from the squat's assembly.
For two years already, Apertus squat has been a space of political meeting and collectivization, aiming not simply to operate but to build structures of social solidarity, and to communicate struggles across the town. Therefore, apart from political events, discussions, book presentations, film screenings, collective festivals, etc. inside the squat's space, we have also organized gratuitous bazaars, theatrical plays, etc. in other parts of the town. Our main concern and aim remains our interaction with the local community and its social struggles.
We don't need to have knowledge of espionage to understand that this gang attack could only have come from circles of the neo-Nazi organization Chrissi Avgi/Golden Dawn. An organization that's crawling like a snake in the social realm of the town, pouring racist venom in its wake, and with its nationalistic fixations is trying to sow weeds among the oppressed, while it stands as an informal repressive reserve of the State… An organization that's pretending to be 'anti-systemic', 'charitable', 'anti-memorandum' in an attempt to cover up its real role, which is none other than the management of capitalism in crisis. So, wherever the goldendawners set foot, they promise to those who will be willing to follow them that they shall help them solve their problems; help them find (slavery) work, be able to go shopping without fear, as they say… In the wider region of Agrinio, they are handing out promises to solve once and for all the 'Romani criminality's problem', envisioning in reality a pogrom that refers directly to Hitler's fascism. While they're beating the drum for their performance of social work and legitimate political activity, behind the scenes they're stabbing immigrants and they're placing incendiary devices in self-managed spaces. Thus, in Agrinio, this fact has been confirmed both by the attack on Apertus squat and the scene of attack against Roma that the neo-Nazis staged in Panaitolio (very close to the town of Agrinio). In this way they revive a modern apartheid, responsibilities for which bear also several local mainstream media that have long been creating the appropriate climate for all this to occur.
However, the problems within societies are resulting from the capitalist system's nature and the social relationships that this establishes. Nobody is going to get overall help just by making a 'phone call to the Golden Dawn'. These trashcans of Golden Dawn, who today offer generously their help, tomorrow will ask for rewards as pimps and patrons do. After all, their idea for establishment of patrolling corps at neighbourhoods sounds like a very good business plan. We urge the local community not to buy the lies of hilarious personalities that form the local core of this fascist organization, not to allow the fascist snout of goldendawners appear in people's everyday lives. We urge you to turn your back on each aspiring patron of social interests.
The historicity of crisis indicates how it leads to an intensification of exploitation, to impoverishment and social fascistization. The exit from the crisis will not come from either the State, or the para-State, or criminal gangs. Our defense against crisis is the relations of mutual aid and mutual support, self-organization, social structures, comradeship and solidarity. Only then can we stand on our feet and preserve our dignity.
The 'troubling incidents' (as mentioned derogatory by the local bourgeois Press), which began with the attempts of the Golden Dawn to set foot in Agrinio, are not a 'vendetta' between some extremes. They arise from the very history of Agrinio… The society of a town with a profound fighting background, with bloodshed memories of labour struggles, of mass executions and public hangings, cannot let the descendants of informers, collaborates and German-Tsoliades go about pretending to be rescuers in its streets, alleys and farm fields.
Our answer is political and derives straight from the movement!
Not one step back!
Neither in Agrinio, nor anywhere
Crush the fascists in towns and villages
July 11th, 2012
Apertus squat
70, Kalivion Street, Agrinio
---
Comrades in Agrinio respond to the growing fascist repression with a call-out for an

antifascist demonstration

on Tuesday, July 17th, at the central square of the town, by 19.00 (GMT+2).