On March 11th, 2012, a number of protests related to women's rights, equality and discrimination called 'Manifa' took place in several major cities in Poland. Rallies were held in Warsaw, Poznan, Gdansk, Krakow, Torun, Wroclaw, Lodz and Olsztyn. These annual demos are organized by feminists, radical groups and unions, local communities and gender associations. That is the day when women and supporters take to the streets of Polish cities to share their views on women's rights.
Below is an account of the Warsaw demonstration by members of the Polish anarcho-syndicalist union Workers' Initiative (Inicjatywa Pracownicza, IP). The Workers' Initiative was established in the second half of 2001 as an informal anarchist group whose objective was the common workers' struggle, and began to act as a formal nationwide anarcho-syndicalist trade union in September 2004.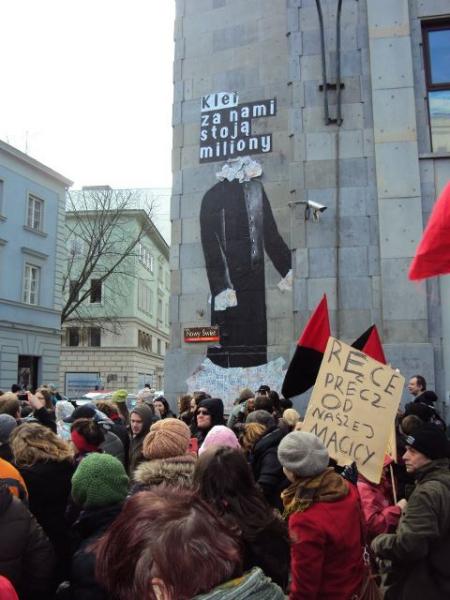 Bread instead of championships! Nurseries instead of stadiums! Decent wages instead of carnations!
On March 11th, 2012, the XIII Manifa — an annual demonstration organized for women's rights — passed through the streets of Warsaw. This year, it attracted several thousands, among whom were also members and supporters of the Workers' Initiative (including trade unionists and the Inter-Commission Nurseries Union Teams in Poznan, the Committee of Warsaw, Torun, Poznan, and the committee acting in Kostrzyn).
A recurring theme of this year's rallies across the country has been the issue of unequal distribution of public money by the government and local authorities, which harms the interests and rights of women, especially the poor. Unjust distribution of wealth is particularly visible when looking at the example of Euro 2012. While carrying out infrastructure investment linked to the Euro championship, local authorities have substantially increased the debts of many municipalities. The budget's problems have been systemically fixed with cuts to current primary expenses. This has led to mass closures of schools, preschools and crèches, raising the cost of care incurred by parents or cutting wages of women working in low paid occupations related to education and day care. At the same time, the State provides financial support for the institution of the Catholic Church, covering the cost of religion lessons or pensions for priests from taxpayers' money (regardless of their religion).
These subjects were raised in speeches given by female activists, including members of various unions: NZZ August 80', Trade Union of Nurses and Midwives and OPZZ. The Workers' Initiative members gave their speeches from the demonstration platform. An activist of the committee which was set up at the day care centres in Poznan stressed the disastrous situation of women employed in these institutions. The main problem continues to be low wages, which consequently affects quality of life and the difficulty of maintaining families. Crèches' workers have been in a constant struggle for a pay rise for some time now, but local authorities have effectively ignored their efforts and needs, rejecting their demands. One union member expressed our firm opposition towards this policy, which on one hand limits access to basic services and social programs — such as the closure of many schools and preschools, as well as the ever increasing rise of day care centre fees, while there is a continued refusal to increase the slave-like wages of their employees — and on the other hand expresses an apparent eagerness to spend hundreds of millions Polish złotys on entertainment in the form of football championship.
An activist of Poznan's inter-committee added that we oppose not only the unequal sharing of our common budgets, but also the unequal division of labour. In this framework, women are socialized into a huge amount of free or low paid jobs, a cost mostly paid by persons from low-income households. In this way, social relations that are established in sectors mainly dominated by female workers, i.e. child care, remain undervalued and underfunded. Every day we should resist this situation, claiming higher wages for crèches' workers, increased financing for sectors such as health care, education and culture, as well as calling for the need of significant changes in the organization of the communities where we live.
During Manifa, the Workers' Initiative formed a visible, separate block, which mainly talked about the economy and the fact that women are being forced to pay the price of the crisis. We were carrying banners and placards with the slogans 'Bread instead of championships', 'Crèches and houses instead of stadiums', 'Mayors, go try changing nappies for 1,500 złotys' [equivalent of 362 euros], 'Strike in day care now', 'Child care is not a private duty of women' and 'Bread and roses instead of Games'. Anarcho-syndicalist leaflets were also handed out as a special issue of the Workers' Initiative newsletter, encouraging participation in the June protests against the Euro 2012.
Thanks to all for participating in Manifa 2012, especially those who travelled hundreds of kilometres to be with us on that day and to fight for women's rights!
The organizers of rallies – March 8 Women's Alliance prepared a newspaper where our statement was presented (here). You can also watch a short clip, promoting participation in the demonstration, where also our union's member speaks.