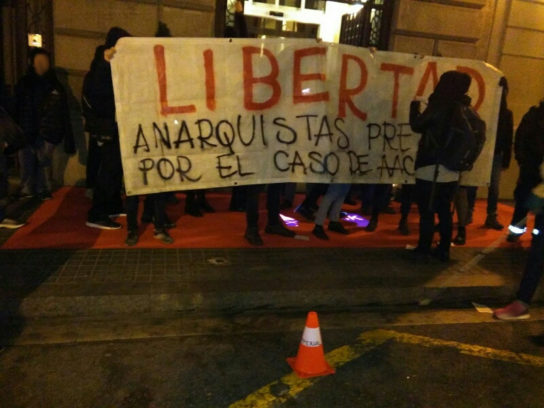 Spit in the face of repression- an evening in solidarity with those accused of bank robberies in Aachen/Germany
Faced with an apparatus of repression that is developing ever more suffocating forms within a context of on-going technocratic and scientific mania, it is easy to fall into a state of inertia.
The aim of this repression, achieved through permanent technological armament, the development of research and studies in the field of DNA and video analysis, and the accumulation and evaluation of data of any sort, is to impose itself on us as undefeatable and inevitable.
We are led to believe it is impossible to avoid the total surveillance, acquisition, and storage of data. To counter and overcome this fallacy of total control, we must approach the situations in which we struggle with continued analysis and reflection. We have to seek and share ways to meet these developments on battlegrounds of attack, solidarity and self-organization.
We are facing questions that have already been the focus of anarchist analysis for a long time and which haven't lost (and probably never will lose) their relevance – questions concerning expropriation, repression and solidarity.
On Saturday, 11th of February 2017 at 7pm, we invite you to come to Infoladen Aachen in Bismarcksraße 37. We would like to share experiences and thoughts with each other regarding the questions raised above, questions that have been brought into focus by the recent repressive blows against anarchist comrades who are accused of bank robberies in Aachen and who are currently facing trial.
More info about the cases and solidarity initiatives:
solidariteit.noblogs.org, solidaritatrebel.noblogs.org, lalime.noblogs.org