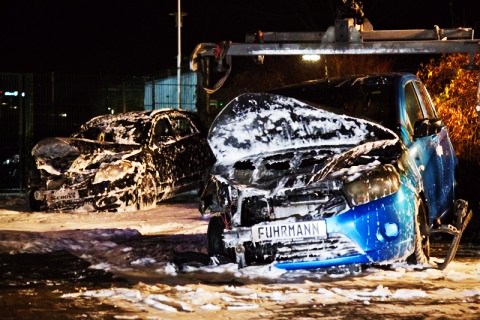 Alexis, you live – 06/12/2008
Αn anarchist rebellion started 7 years ago in Greece, which gained international resonance and continued. Despite the numerous efforts at torturing and killing our comrades worldwide, we don't let ourselves be intimidated, and no matter how much repression they sow, we'll only come out of it stronger.
In the frame of Black December, we torched two vehicles of the Suzuki firm at a car dealership, in the hope that the flames illuminate the building.
Suzuki has regularly supplied the Greek executioners with new vehicles, which they use for counterinsurgency purposes, or to equip the DELTA motorised police units so they can torture better.
The Greek regime just recently ordered again dozens of motorcycles from Suzuki in order for its minions to ride them and line up against the population.
We specially dedicate our action to Alexandros, who was murdered on the evening of December 6th 2008 in Exarchia.
We are aware of the pure symbolic nature of our action, which will hardly reach like-minded ones in a metropolis of millions, but we hope that the few who have noticed these smoke signals imitate us and reveal their destructive intents by destroying parts of operational units in this system.
There are enough reasons to display destructive intent at any time and attack (non-)state institutions, their subordinates and those hating us.
We should have used the year-long lethargy to regroup ourselves, to have discussed new ideas and be able to attack directly.
For a Black December
Freedom for the prisoners of rebellions worldwide
in German and Italian | translated in Greek by Black International