On Tuesday, September 29th, it became known that anarchist prisoner Gerasimos Tsakalos has undertaken a hunger strike since September 14th 2015, standing by the side of his life companion Evi Statiri from the very first moment she initiated her hunger strike. For reasons of his own, Gerasimos chose not to publicise this fact earlier. It must be reminded that his body has not had time to fully recover from the exhaustive hunger strike that he recently carried out along with the rest of the Conspiracy of Cells of Fire imprisoned members and anarchist captive Angeliki Spyropoulou.
Below is his open letter from Koridallos prison (Spanish translation here).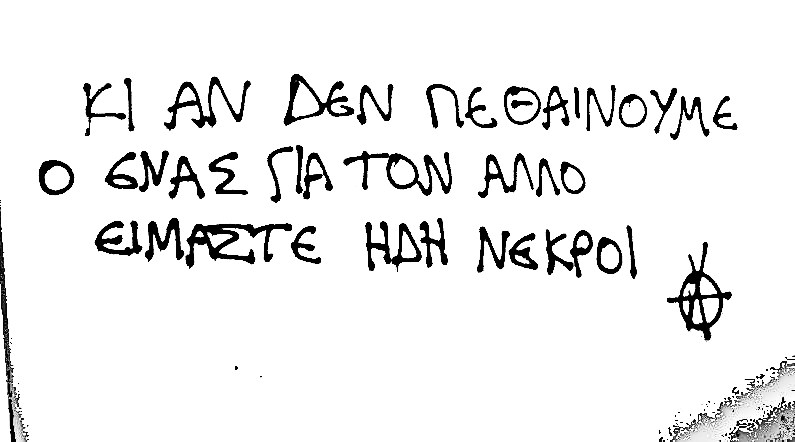 Gerasimos Tsakalos — To Evi's struggle
It's been 7 months since the imprisonment of my companion Evi Statiri in the cells of democracy. The only 'offence' she ever committed is her personal relationship with me. At the same time, my mother Athena Tsakalou lives as an exile on Salamis Island by decision of the judicial junta.
It's been 7 months since the Power's experimentations that have widened the circle of repression against friends and relatives of political prisoners, aiming to disseminate fear among people who stand in solidarity with the latter, and to impose a peculiar quarantine regime on captive urban guerrillas. Through the criminalisation of family-friendly relationships, the Power seeks to amputate every bond of solidarity that permeates the prison walls and fuels the struggle for freedom. Right at this moment, the endurances of our own world — a world that has never learned to bow its head — are being put to the test by the police-judiciary machinery of the Power, who are simultaneously taking the pulse of its reactions. With every step we take backwards, the totalitarianism of the statist beast gains ground.
Fear has expansionist tendencies… If that which is being tested today against political prisoners is not slaughtered at birth, it will spread like a plague, striking everyone who wants to live rebelliously without accepting orders or commanders in his/her life. There are many things that I would like to say but, in such moments, actions speak louder than words. Since September 14th Evi has launched a hunger strike fighting for her liberation. Since September 14th I have stood by her side, just like over recent years she has stood by my side, and I have since that date been on hunger strike myself, despite the contrary opinion of doctors, who have outright disagreed with me because it's only been a short while since the previous hunger strike in which I participated came to an end. My only request is Evi's liberation. My hunger strike is the only weapon I now have as a prisoner so as to stand in solidarity with Evi. It is part of a polymorphous solidarity that has already begun to manifest itself across Greece within the space of struggle and anarchy. So, there's really no need to lose focus of the very purpose of the struggle for Evi's liberation by making mention of my hunger strike or me personally. As I stated before, my hunger strike is my way of declaring myself present at mobilisations of people who stand in solidarity with Evi's struggle. It is my contribution to solidarity actions that are being accelerated in order to derail — by means of anarchy — the history that we have never recognised as our own as is written by laws, judges, cops and the Power.
That the struggle for Evi's liberation and for the cessation of prosecution against relatives-friends of political prisoners be the detonator for restarting anarchist offensive, reclaiming the streets, igniting barricades, intensifying desires, waging urban guerrilla warfare, and wagering on total liberation.
IMMEDIATE RELEASE OF EVI STATIRI
'For, if we don't die for each other, we are already dead'
LONG LIVE ANARCHY
Gerasimos Tsakalos, member of the Conspiracy of Cells of Fire