Anarchist Antonis Stamboulos, currently incarcerated in Larissa prison, is conducting a hunger and thirst strike since October 6th, 2014, demanding his immediate transfer to Koridallos prison in Athens. Below are just a few of the recent gestures in solidarity with the comrade:
On October 4th, anarchists distributed texts and spray-painted and shouted slogans in the neighbourhood where Antonis Stamboulos was arrested, in Vyronas, Athens. On the same day, a banner was placed at Orologiou Square in the city of Veria: "War on cops, judges, journalists, bosses – Solidarity with anarchist revolutionaries – Strength to anarchist Antonis Stamboulos, arrested on 1/10 in Athens." Also in Thessaloniki, comrades put up a banner in the district of Triandria, which read: "Do do not expect us to bow down – Solidarity with revolutionary A.Stamboulos."
On October 5th, anarchists carried out another solidarity intervention, in the proximity of his parents' house which was raided by police, in Maroussi, Athens.
On October 7th, comrades gathered outside the prison in Larissa, as soon as it became known that Antonis Stamboulos was transferred to that hellhole.
On October 8th, supporters dropped a banner at the main entrance of ASOEE faculty on Patission Street in Athens, which read: "Strength to Antonis Stamboulos, on hunger and thirst strike since 6/10 – Against statist illusions."
On October 9th, two solidarity banners were hung from an overpass on Chamosternas street near Petralona in Athens. Another banner, 15 meters long, was dropped from an overpass on Veikou Avenue in Galatsi, Athens: "State and Capital the only terrorists – Solidarity with anarchist hunger & thirst striker Antonis Stamboulos – Demonstration on October 11th from Monastiraki Square, at 12:00." On the same day, a group of anarchists interrupted the regular broadcast of Kokkino 105.5 radio station in Athens to inform listeners about the comrade's situation. Meanwhile, a morning solidarity gathering was held outside Koridallos male and female prisons, including a protest in front of the prisoner transfer unit's office in the same area.
On October 10th, anarchists symbolically occupied the ESIEA building in Athens (the headquarters of the Journalists' Union of the Athens Daily Newspapers). Additionally, anarchists and anti-authoritarians from faculties of health sciences dropped a banner from a building of Athens Medical School. At the same time, in the city of Patras, comrades gathered outside the local prisoner transfer centre, located in Gounari Street, to express their solidarity with the hunger and thirst striker. In Kavala, anarchist comrades placed a banner reading: "We will not let the scumbags of antiterrorist police and the politicians crush the fighters – Antonis Stamboulos conducts hunger and thirst strike from 6/10" and another one reading: "Solidarity with Antonis Stamboulos, on hunger and thirst strike since 6/10."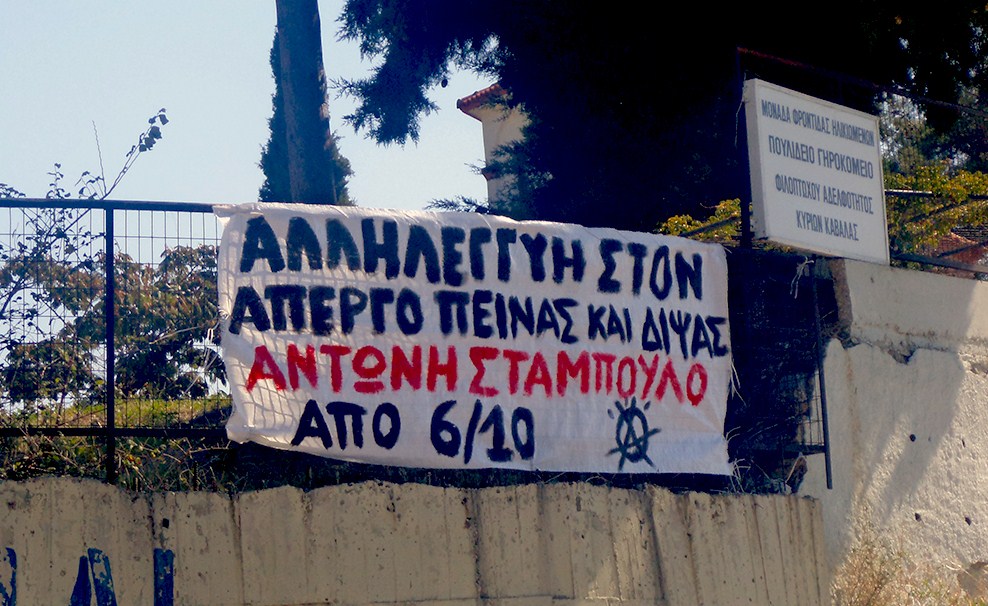 In the city of Arta, supporters did flyposting and hung their own banner: "Solidarity with anarchist, hunger and thirst striker, Antonis Stamboulos – Not even an inch of ground to the classist enemy."
Over the past few days, several other actions such as PA's gatherings, solidarity presence outside the courts, assemblies, etc. took place in different cities. Furthermore, comrades who are imprisoned in Greece have released statements in solidarity with Antonis Stamboulos.
Solidarity is our weapon!
October 11th: nationwide day of action in solidarity with anarchist revolutionary Antonis Stamboulos