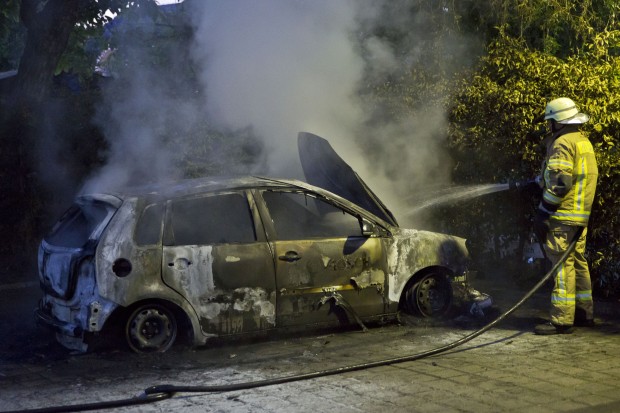 Company car set on fire in Prenzlauer Berg; June 2nd, 2014.
Incendiary device for Bosch Sicherheitssysteme in Storkower Street (near a police station) in solidarity with the revolt against the World Cup.
The Bosch Security Systems draws up security plans for train stations and airports, for banks and administrative authorities; security for persons who turn our lives into hell from inside their offices, security for banks that cause suffering across the world (such as 'Santander' and 'Deutsche Bank'), security for the flow of Capital, so that no saboteur will even attempt to briefly disrupt this deadly normalcy.
Bosch was responsible for the remodeling of the São Paulo Metro (Brazil). There, as here, violence is supposed to be constantly on the rise, which is why "security" had to be restored. The solution is pretty simple. Nearly 200 surveillance cameras were deployed across the metro line. These are now constantly monitored in a control centre. Once again a metro system is "secure", and everyone is satisfied; the justice ministry, the cops, the media, the Bosch firm and its henchpeople.
Questions as to whether and why violence keeps increasing, whether the cameras prevent or only displace the deed, and who can ultimately afford the general cost of riding the metro over there – that is to say, for whom was security constructed there – are likely to be mentioned only in passing again.
"Shaken and driven by dynamics of the crisis, the State cannot provide the lower strata with any integration; instead, it imposes various forms of repression and surveillance on them," said 'die flinken' ("the nimble ones" who attacked a Canon Service Point in Reinickendorf, Berlin, on the night of March 21st, 2014) about the particular topic of cameras. What is happening right now before the World Cup in Brazil, clearly demonstrates this. We stand here in explicit solidarity with all those who have no interest in a World Cup but have always had, or just recently discovered they have, an interest in revolt!
We'd like to greet the various comrades in Berlin and Leipzig who gave hell to diverse security undertakings lately. We'd also like to greet our unknown comrades from Neukölln (Berlin) who tried to blow up the cop car in Rollberg Street. To the cops in Storkower Street: We see you. Apparently you don't see us…
We still have much to do…