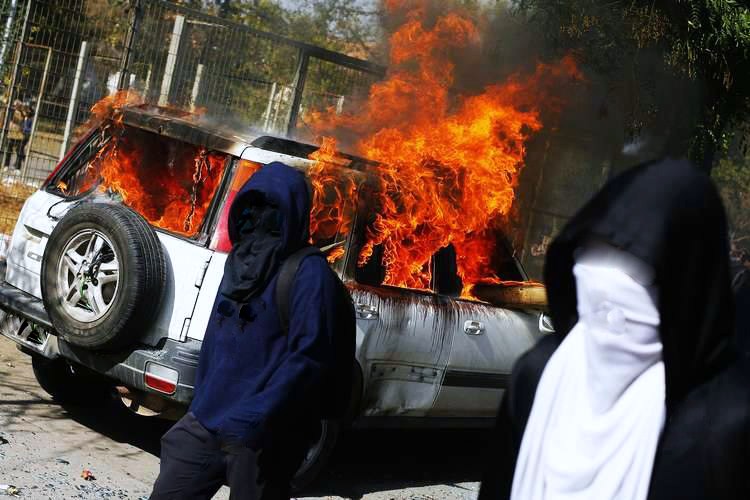 Clashes on the 8th of May 2014 in Santiago broke out when the delinquencial march [smashy smashy student demo] had reached the Almagro Park, and while social-democrats were still carrying out their act for the day. As soon as individualities covered their faces, erected barricades and began to clash with the special forces of carabineros, we knew the moment had come, so we completely hooded ourselves to become part of the rupture with the prevailing order and normalcy.
Carrying combustible material, we saw a car (temporarily) parked outside the police perimeter, and as we stood next to the mob that was throwing stones at the vehicle we decided to burn it down, boosting the chaos against civilization and its transportation means for modern slaves. Once the car engulfed in flames, the bastard cops came in full force, dispersing the hooded ones momentarily. The anti-riot squads were advancing, held back only with the use of various objects. At that precise moment we launched first 1 and then 2 incendiary bombs directly at the defenders of order. Various lackeys of the police were set ablaze and a captain of theirs was severely injured in this attack.
Not one step back against the enemies or the imposed totality; we don't want to subvert the order, we want to destroy it and demolish the foundations of civilization. We attack the concept of citizenship into which they intend to convert us, and we don't long for any future within their disgusting fortified walls. We declare ourselves enemies of the police, the businesspeople, the submission, the city and every civilized being that sustains and/or defends this asphyxiating imposed reality.
For the destruction of the existent
War on Capital (A)
Freedom for Sol, Adriano, Gianluca, Alfredo, Nicola and all the prisoners in war around the world.
Fire to the bars of passivity they like to sell us!
In memory of Angry and all (human or non-human) animals killed by the disgusting society and its supporters.