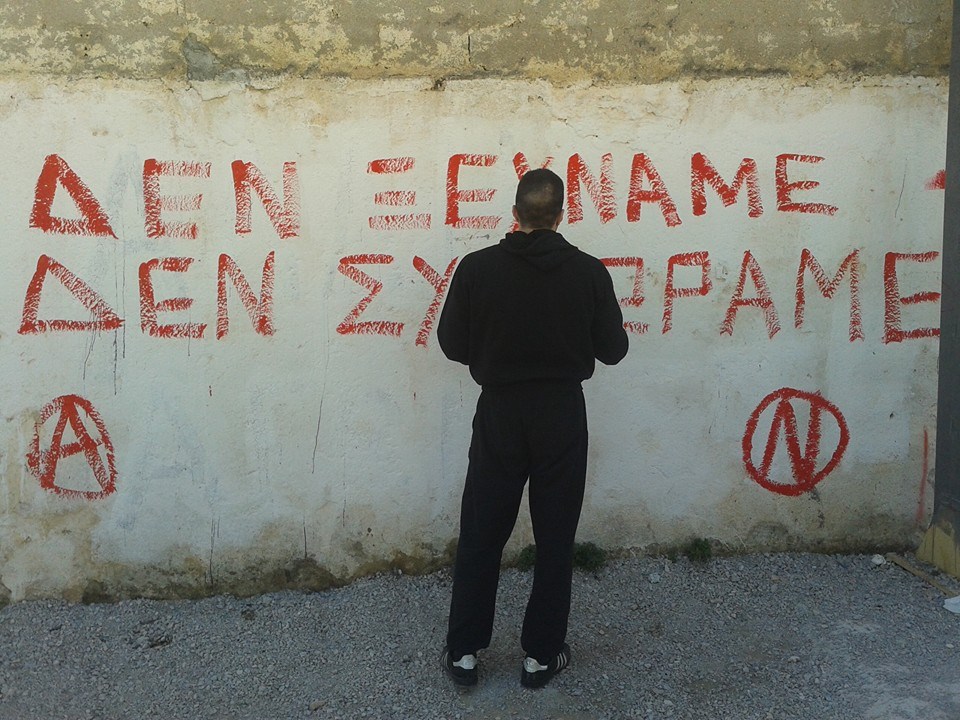 On Monday, March 31st, 2014, men incarcerated in the A wing as well as women inmates of Koridallos prisons refused to return to the cells after the end of time on prison yards, staying outside for one hour (from 11am to 12pm) as a sign of mourning and rage over the recent death of their fellow prisoner Ilia (Ilir) Kareli.
In the A wing of Koridallos men's prison, slogans were painted on walls of the yard while inmates shouted slogans such as "And now one slogan that unites us all: cops, pigs, murderers," "The blood is still flowing seeking revenge," "Fire and arson to all the prison cells."
Footage from these moments:
[vimeo]https://vimeo.com/90602222[/vimeo]
In the women's prison, inmates chanted slogans against cops, prisons, Golden Dawn thugs, like: "Fire and arson to all the prison cells," "Fascist scum, soon you will be hanged at gallows", "Rage and consciousness, negation and violence bring chaos and anarchy," "The States are the only terrorists; solidarity with armed guerrillas," "Fire and blast at this brothel."
Below is the text of men and women prisoners from Koridallos which was sent to the ministry.
Prisoners' announcement to the ministry of Justice:
Only a few days after the brutal assassination of our co-prisoner Ilia Kareli, and while his blood from the beatings of his torturers is still fresh, nobody from the ministry of Justice has done anything regarding this killing. That's why today the 31st of March we men/women prisoners in Koridallos will stay outside in the yards until noon, for one hour after lock up time, as a sign of protest.
We demand that the ministry apologize publicly to the murdered prisoner's family, and find and punish the uniformed murderers that killed Ilia Kareli. We owe it to our dead fellow inmate, to ourselves and the dozens of prisoners who were tortured and lost their lives in the correctional galleys. We will either fight for our rights, or we will die slowly inside the prisons.
Men/women prisoners of Koridallos
PS: The mobilization against the fascist bill of the ministry of Justice for type C prisons continues until victory.