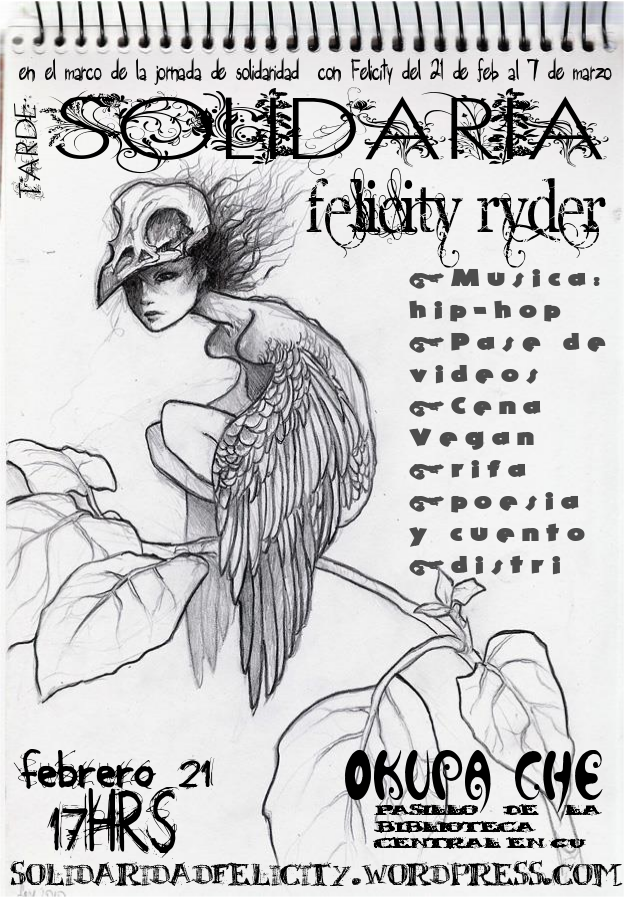 We send our fraternal greetings to all the anti-authoritarian hearts that read us in different places of the world. All those who have firmly decided to use their time and means to fight against each institution and symbol of the gear that maintains patriarchal capitalism, oppression, domestication and the masquerade of Power.
Comrades, we make this call from some part of the Monster to launch our howls of solidarity with our sister and comrade Felicity Ann Ryder, who remains fugitive from the clutches of the State for over seven months now. In the morning of June 27th, 2012 there was an unfortunate incident: an explosion from an incendiary device wounded our comrade Mario López 'Tripa', who was remanded for six months and now is under conditional release awaiting trial. After that, the police forces of the Government of the Federal District in Mexico found Felicity's passport, so our comrade went at large to escape imprisonment.
Because of these facts, we realize that her family must have suffered constant harassment back in her birth country (Australia), as well as in the so-called social media. It's also possible that new investigations in other countries have been initiated, trying to associate her with different cells of anarchist action. This is all part of the international police set-up for attacking the acratist movement and imposing fear and terror in their (failed) attempt to immobilize us.
We realize the hard times Felicity has been through over the last months. Clandestinity, despite being a better option than the cold and cynical prison bars, ultimately turns into a type of prison by the threat of possible arrest that keeps fugitives from enjoying complete freedom. It also implies a lot of mobility difficulties towards activities of one's own subsistence and struggle; isolation and estrangement from beloved ones and halt of all life plans. Clandestinity as necessity, and not as some authoritarian vanguard privilege, also requires our solidarity as it forces our comrades to be constantly on the run, a situation that little by little undermines the much longed-for freedom. Furthermore, it's not possible to provide the same material and emotional support as to any imprisoned persons, even if they're behind bars.
We know that wherever our comrade Felicity may be she stands firm with her convictions as anarchist, mocking and without ever stopping to attack the enemy, face to face. From here, we send her our warm greetings and call on all anti-authoritarian efforts to engage in two weeks of activities, greetings and gestures of solidarity with our comrade Felicity, from the 21st of February to the 7th of March 2013, each person according to his/her time and methods, so she will know she is not alone and that solidarity among anarchists in struggle is more than just a written word or an ornament in beautiful 'revolutionary' pamphlets.
To us, solidarity is also a weapon that destroys Power.
We also recall other comrades on the run, such as Hans Niemeyer, prosecuted by the $hilean State, or the compas Grigoris Tsironis, Marios Seisidis, Vassilis Palaiokostas, Nikos Maziotis and Pola Roupa from Greece. We send our indomitable greetings to all imprisoned and fugitive anarchists worldwide. Never defeated, never regretted!
We want you free and wild, Felicity, you are still with us! You are not alone, compañera. Many of us share your fight and embrace your convictions.
FREEDOM FOR ALL PRISONERS OF SOCIAL WAR!