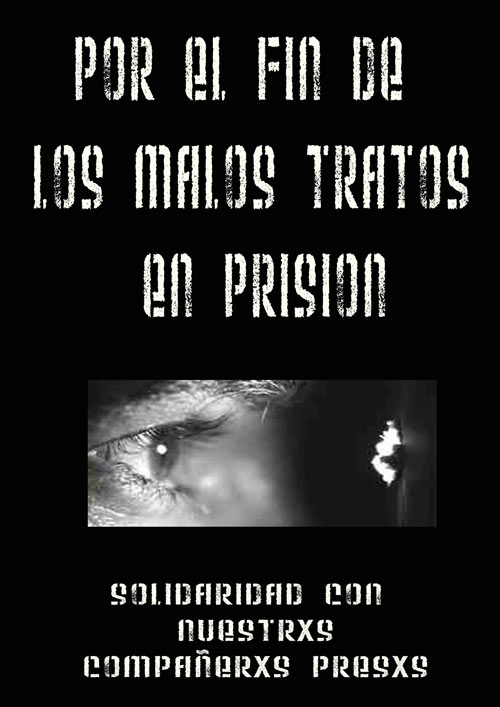 We are contacting all of you due to the march that we are calling and organizing for the third consecutive year to the extermination centre of Sevilla 2, Morón, where there have been more than 25 deaths since it opened less than three years ago (previous anti-prison rallies: 1, 2, 3, 4).
In this hellhole, there are two incarcerated comrades who participate in the struggle against the torture and ill-treatment in prison, a campaign that continues after one whole year with 70 prisoners involved in various prisons across the Spanish State.
We highly value the two protest marches carried out in previous years, due to the psychological support given to the prisoners, as they themselves expressed in letters that were sent in the days following the demos.
The idea is to walk around the perimeter of the facilities so that we can be heard from different wings, carrying our banners so that our messages can be read and being as noisy as possible. In this way, we can break the permissive silence that, day after day, keeps 80,000 persons locked up in the dungeons of the Spanish State because they could not fit into the established system; since the unjust distribution of wealth generates a poverty condemned to become flesh for prison under penalties and laws that only benefit the dominant classes.
In order to attend the march, please get in touch with us at abajotodoslosmuros[at]riseup.net. Just let us know how many people are interested to come and if you have a vehicle available as soon as possible, in order to check our capacity and handle the issue of transportation.
We are looking forward to your reply and implication, comrades!
HEALTH AND ANARCHY
"The penal system is simply the most evident aspect of a totalitarian regime of domination and exploitation (State and Capital) that concerns us all. We live in a prison society in which any structure called a penitentiary is nothing but the first grade, thus the support to the prisoners' struggle would only be one aspect of solidarity amongst the oppressed to defend themselves from oppression, an indispensable element so that resistance is raised against domination."
source: estrecho indymedia via carcel igual tortura and boletín tokata