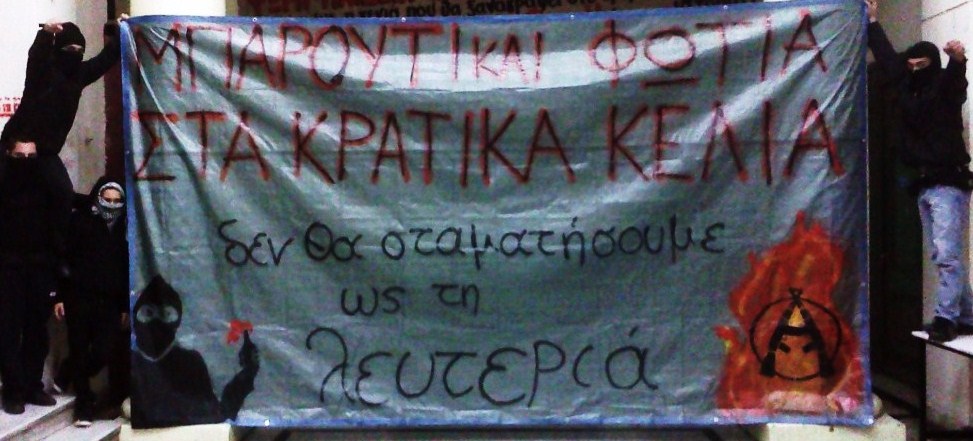 "… there are times when people realize that their mistake to be subjugated is not due to the stars but due to their kowtowing consciences; it is then when they take charge of their own fate, and history is written from the other shore, which is hated and much feared by every State; the shore of rebellion and passion for freedom…"
On November 23rd, 2012, anarchists Tzifkas, Tsilianidis, Dimtsiadis and Fessas are called to appear before the Court of Appeals on Loukareos street, Athens, for the processing of yet another act in the chronicle of penal prosecutions against them, which were initiated since October 13th, 2010, after arrest warrants were issued for the arson on vehicles of the public electric power corporation (DEI). Anarchist Giannis Skouloudis was arrested on 13.10.2010 and claimed responsibility for this direct action —he was released from prison on 22.6.2012.
The four comrades were at large for three months while their persecution continued, and were caught on 13.1.2011. Along with other accusatory briefs, the four were indicted for a new case, and this time the prosecuting authorities applied the inventive antiterrorist theorem on 'unknown terrorist organization.'
In this trial, the judicial functionaries will be asked to ratify the monopoly of violence that the state cluster is striving to hold —just as it happened in the previous court, which began on March 21st, 2012 and ruled upon the case of arson on DEI vehicles. The judicial functionaries will be asked to convict morally and politically a set of choices and consciences that consists a threat to the domination's smooth continuation now more than ever before, amid the resurgence of social civil war, and while the faith in the socio-political system has fell to its lowest point; a set of choices and consciences that embodies the theoretical and practical application of a photographic negative of the revolutionary process in its countless facets.
Leaving aside any forged divisions between legal and illegal, between public and conspiratorial, it is clear that every arrest, every legal prosecution and court proceeding are part of a wider counter-revolutionary strategy of the domination.
Every attack on anyone of us is an attack on all of us.
We let the comrades speak for themselves about their choices; because actions speak louder than words.
We remind them that we stand on their side once again, ahead of this new judicial parody. We thus send comradely regards and our heartfelt solidarity to them.
Solidarity with anarchists Sokratis Tzifkas, Dimitris Dimtsiadis, Babis Tsilianidis – Solidarity with anarchist Dimitris Fessas
Ergün Mustafa, Angelos Kostopoulos, Dimitris Dimitriou, Charalambos Avramidis, Dimitris Giotsas, Michalis Ramadanoglou, Michail Tzoumas, Christos Tsonaros, Makis Gerakis, Yannis Gelitsas, Vaggelis Kalamaras, Dimitris Tsaras, Andrzej Mazurek, Elias Karadouman, Giorgos Karagiannidis, Stella Antoniou, Kostas Sakkas, Alexandros Mitroussias, Spyros Stratoulis, Rami Syrianos