In recent months state repression has been intensified inside and outside ASOEE (Athens University of Economics and Business), in downtown Athens, against immigrant street vendors, students and other people who stand in solidarity with the oppressed. A permanent presence of anti-riot squads around the university premises along with plainclothes cops—who are constantly and jointly launching targeted attacks that often include tear gas, fired at the perimeter and the forecourt of ASOEE—has thus become daily circumstance. Today, May 28th, once again an orchestrated raid against immigrants was launched at the main entrance of ASOEE by large police forces, plainclothes cops and at least thirty thugs of the neo-Nazi party Chrissi Avgi/Golden Dawn, who were seen wearing helmets and holding batons during the attack.
The poster is a callout for solidarity with immigrants and supporters, on the occasion of tomorrow's evening anti-repression and antifascist demo.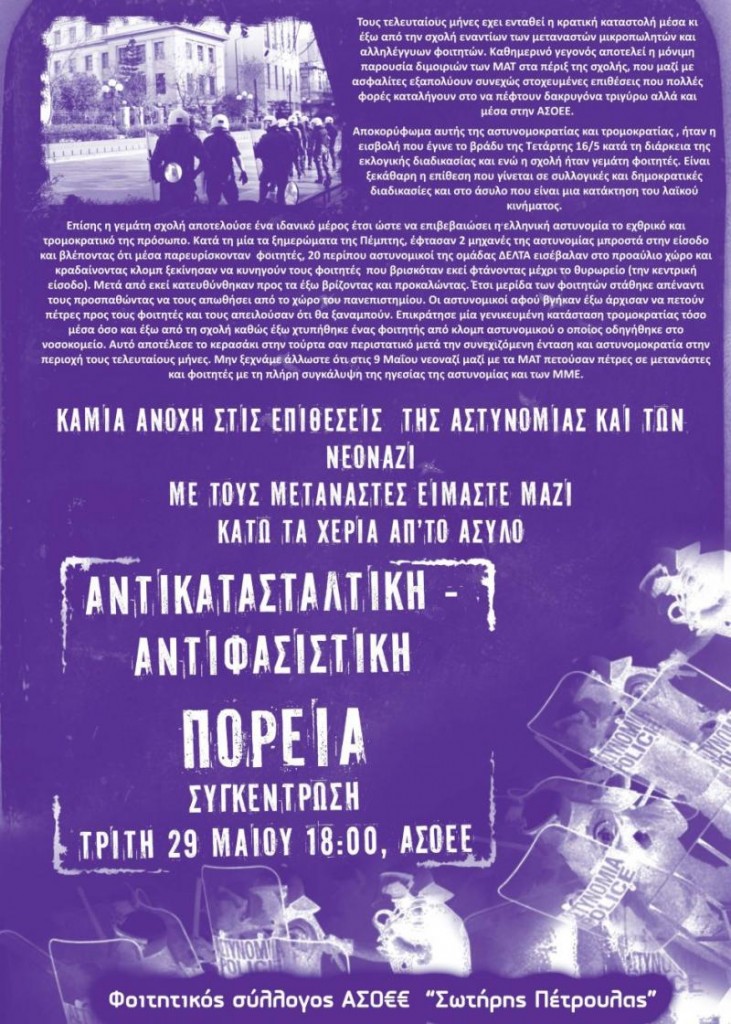 Here follows what the university students say about this ongoing repressive condition:
General assembly resolution by the Student Association 'Sotiris Petroulas' of ASOEE —May 22nd, 2012
Since several months we've been experiencing a police state in the centre of Athens, particularly in the area surrounding ASOEE, with the constant presence of police buses and MAT units (anti-riot squads), as well as daily attacks on students and immigrants in the School's forecourt.
Highlight of this police state and terrorism was the invasion on Wednesday night, May 16th, during the student electoral process and while the School was full of students. Clearly, an attack is being made on collective and democratic processes, but also on the university asylum that has been an acquis of the popular movement. Also, a School filled with people was the ideal place for the Greek police to confirm its hostile and terrorist face. At about 1am on Thursday (17/5), two police motorcycles arrived outside the main entrance. Having seen that students were still attending the university premises, nearly twenty policemen of the DELTA motorcycle unit stormed the forecourt, brandishing their batons, and started chasing after young students. The cops even raided the building's ground floor. They then moved outside, swearing and provoking everyone around them. Thus, several students confronted the cops, trying to push them away from the building. Outside, the cops were already throwing stones against students, threatening to storm the premises again. A generalized condition of terror prevailed both inside and outside the School, because a student got beaten by police batons and was taken to hospital.
This raid was the icing on the cake, after the ongoing tension and the whole police state in the area over the past few months. Let's not forget that, on May 9th, neo-Nazis along with MAT units hurdled stones at immigrants and students. Also then, the police's leadership and the mainstream media completely whitewashed the real facts.
On Tuesday, May 22nd, 2012, during this general assembly of the student association, we were informed of a racist attack that had just been made with a screwdriver against an immigrant outside ASOEE, on the central Patission Street. Specifically, as an immigrant crossed Patission Street, one guy came out of a parked car with four people, slamming the door against the immigrant. When the latter asked why the hell he was treated like that, the guy slapped him on the face and then those thugs attacked him by sticking a screwdriver in his hand, while they also threatened him with a knife. Fortunately, the people's response from inside the School was immediate, because they went straight to Patission Street blocking the one stream of traffic with large banners and chanting antifascist slogans.
Although the Deanery is faced with all this for so long, it just keeps silent, obviously consenting totally with such thuggish acts and applauding the perpetrators.
The attack on immigrants is not taking place coincidentally, but it's in fact an attempt of the authorities to break the class unity among workers. They also want to gag and suppress every voice and social struggle that is being freely expressed in spaces where the university asylum has been fought for since decades.
Solution to all this is everyone's active mobilization, in order to be able to defend and fight for what belongs to us. Our weapons are the general assemblies and any form of radical struggle and organization from below.
Our demands are as follows:
– Immediate removal of anti-riot police forces from the area surrounding ASOEE
– No arrest/terrorizing of immigrants and people in solidarity
– Hands off the university asylum
Our decisions are as follows:
– Whenever there are police assaults at ASOEE, we should respond with a collective intervention of students with banners in Patission Street, outside the School
– Distribution of counter-informative texts, starting from Wednesday, May 23rd, in the School's forecourt, at 11.00
– Protest rally outside the citizen protection ministry on Thursday, May 24th, at 11.00
– 2-day festival on Thursday, May 24th and Friday, May 25th that will be organized by the relevant working group of the assembly
– Anti-repression and antifascist demo on Tuesday, May 29th (we meet by 18.00 at ASOEE)
– New general assembly on Wednesday, May 30th, at 13.00, in Auditorium A of ASOEE
Student Association 'Sotiris Petroulas' of ASO€€
_
Sotiris Petroulas (1943–1965) was a young activist and economics student who fell in combat under suspicious circumstances in 1965, during a time of political unrest and student protests in Greece. While studying at ASOEE, he was expelled for one year from the School on political grounds. On July 21st, 1965, he participated in a large student demonstration in Athens. In the early evening hours, the cops tried to disperse the protesters with the use of tear gas, police batons, etc. At least 250 protesters were reportedly injured and arrested, including Sotiris Petroulas at the intersection of Stadiou and Lada streets, at around 22.00. The first record of his injuries was at 3am on July 22nd inside a first aid station, where he was later found dead. The official findings of the forensic examination spoke of death caused by asphyxiation due to tear gas. The real cause and details of his death remain unanswered to date. His public funeral, then, took the form of demonstration. In 1975 the ASOEE Student Association decided to be named 'Sotiris Petroulas' and to pronounce the deceased fighter as honorary member.