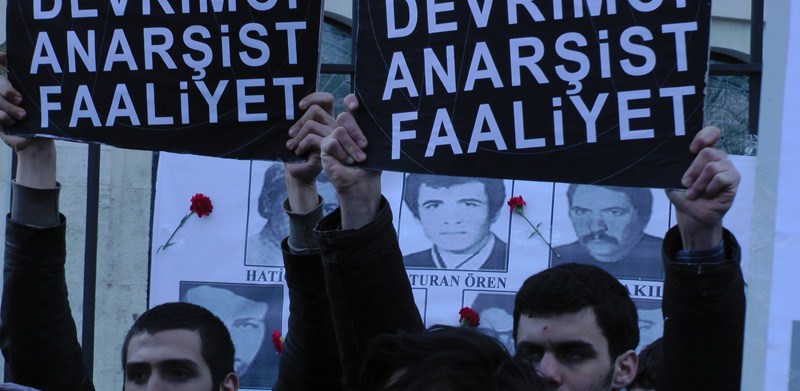 On March 16th a protest took place in Beyazit/İstanbul for the anniversary of massacres of Beyazit (16-3/1978) and Xalabja (16-3/1988). The demo was organized by 16 Mart Platformu (16 March Platform). Revolutionary Anarchist Action (DAF) was one of the participants in this platform. The protest was held in Laleli. Then in Beyazit the related communiqué was read.
"…We will continue the struggle of the revolutionists who were murdered by the State. We will raise the voice of the people's brotherhood against racism.
We won't forget Beyazit, Maraş, Çorum, Dersim, Halabja, Roboski, Çukurca, Ranya and Pontus. The ones, who were/are responsible for these massacres, will pay."
Beyazit massacre: On March 16th, 1978, a group of nationalists threw a bomb to revolutionary students in İstanbul University. 7 revolutionaries died and 41 people got injured.
Halabja massacre: The Halabja poison gas attack, also known as "Halabja massacre" or "Bloody Friday", was a genocidal massacre against the Kurdish people that took place on March 16th, 1988, during the closing days of the Iran–Iraq War, when chemical weapons were used by the Iraqi government forces in the Kurdish town of Halabja in Iraqi Kurdistan. The attack killed between 3,200 and 5,000 people, and injured 7,000 to 10,000 more, most of them civilians. Thousands more died of complications, diseases and birth defects in the years after the attack.
source: Anarşist Faaliyet / translated by Anarşi Haber