Since January 2011, residents of Keratea built a critical meeting point for their anti-landfill struggle, the 'Aparto Kastro', made out of sheet metal and wood, where numerous assemblies, discussions and musical evenings were held. For the past 4.5 months, this self-made space housed once more their need to meet regularly and discuss on the organization of a wider local struggle, not only against landfills and factories construction in the region, but also for the community's counterattack to the whirlwind of burdensome austerity measures, enforced by the government of collaborators, the EU/ECB/IMF and the world of Capital.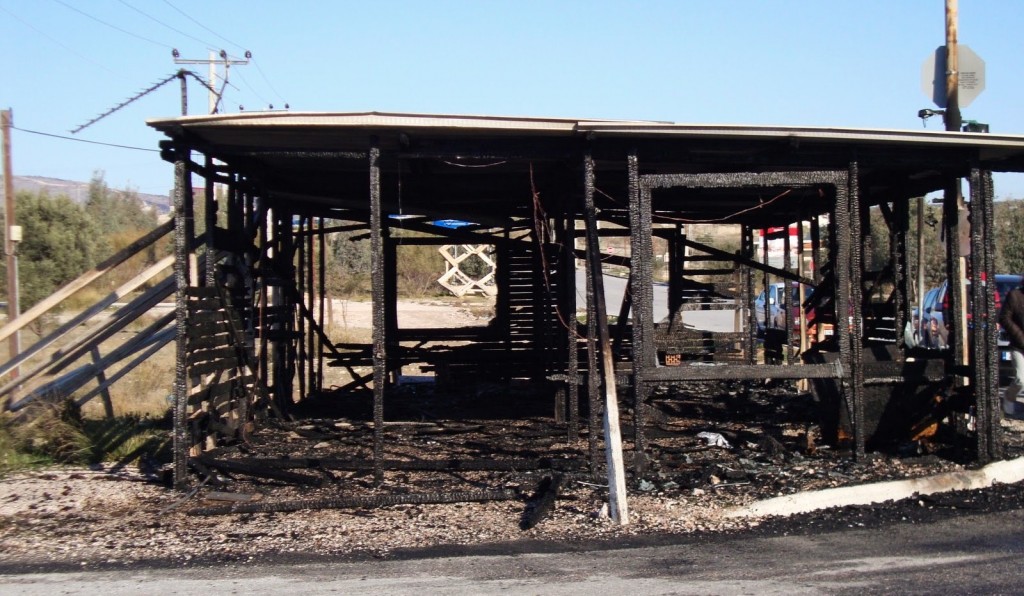 On Tuesday morning, January 17th, the residents saw that the space of their open assemblies had turned into ashes. The particular gatherings, every Sunday in the Impregnable Castle, must have frightened the local state collaborators, the interweaving interests and the various kinds of scabs and spivs in Lavreotiki. So, some scumbags decided to burn down the Impregnable Castle, assuming that they would intimidate and terrorize the residents and eventually compel them to silence. Nevertheless, all they have accomplished is to make them even stronger, and prove in fact that their social struggle is fair, threatening to the State's crutches.
Now, the people in Lavreotiki have had enough, and stand united against the local authorities that try to be 'liked' and appreciated by the so-called transitional government, sabotaging the ongoing popular struggle.
The residents of Keratea declare that they know both the instigators and perpetrators of this arson, and assure that they will make them pay dearly for employing such methods. They make it clear that they can deal with fascist, bullying and repressive attacks. They will rebuild the 'Aparto Kastro' as a construction and a roof over their heads, anytime soon. But the Impregnable Castle of their hearts could not have been burnt down, gagged or bullied.
The people of Keratea and Lavreotiki, and all those who stood by and supported their struggle against the State of contractors and police squads, are called to participate in a massive gathering as response to the incendiary attack, on Sunday, January 22nd, 2012 from 11.00 at the blockade of the Industrial Park (VIO.PA.) where the 'Aparto Kastro' was and will be again.