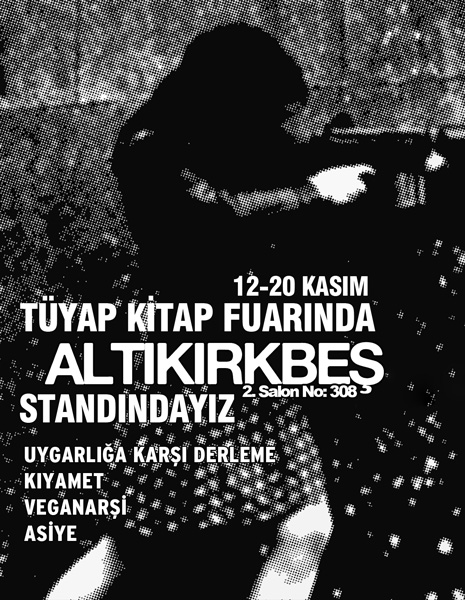 From November 12th to 20th, we're at the Altıkırkbeş stand with anarchist prints in the İstanbul Book Fair
If you come to the İstanbul Book Fair that takes place for the 30th time, you'll have the opportunity to encounter anarchist underground editions at one section of the Altıkırkbeş stand. There will be hardcopies of Kıyamet, Asiye, Anti-copyright-tr, GÖZEL, Veganarşi, Yabanıl, Vahşiye Dönüş, Vahşinin Günlüğü, Vejetaryen, Son Durak, Yeryüzüne Özgürlük, Zulmü Görüntüle and Uygarlığa Karşı fanzins, as well as things like cd's, pins etc. at the stand.
This year we published the 3rd Compilation of Uygarlığa Karşı (Against Civilisation) that contains END:CIV documentary and pdf's of Kıyamet fanzins which were published in 2011 and Veganarşi and Vejeteryan fanzins which were first published in 2000/2003.
If you come by we'll also have the opportunity to meet with you.
See you…
PS. You're free to steal anarchist prints or take them for free but to act with solidarity is more free…
InternationalAforum