On the morning of Thursday, September 1st, in Lavrion's open-air market, anarchists made an intervention on the economic crisis that was met with a warm response from most of the people. Here is the text that was distributed: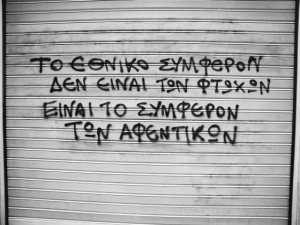 A few thoughts on the issue of crisis
According to a survey released last week, what everyone pretty much knew became evident and was officially registered: unemployment rate increases at an unprecedented pace.
Thus, although we talk about a tourist season in which seasonal occupations occur, the official unemployment rate reached 16.6%, with 812,000 productive people remaining out of work. Bearing in mind a percentage of people who work at part-time jobs and are not even counted in these figures, it is understandable that we go back not just a few years but we return to the 'beautiful' times of the 1960s.
Obviously, though, things are not much better even for those who work. Working 10 hours a day has become a law, the wages are slashed in half, and what was left of the welfare state (which we should recognize as an indirect salary and a win) disappears —all in the name of national reconstruction.
It is crucial to understand the reason why all these happen. If we take the Greek government and the TV channels seriously, we will draw the conclusion that all these are because we supposedly face… debts hell which has to be repaid, otherwise the IMF and our creditors will punish us. But is it so?
For example, are wages in the private sector actually related to the… state debt repayment? And in case the memorandum had not been signed, would everything be fine? Then, why is it that similar measures to those of the memorandum are taken in a number of countries which have not agreed to any memorandum (UK, USA, Italy, and France), or even in countries with surplus profits (Germany)? Could it be that these measures are an excuse and simply rely on our ignorance?
The mass media carefully hide from us the uncomfortable truth. The crisis of Capital is becoming a labour's crisis through the measures taken across the Western world. They shift the entire burden of their own 'sins' onto our backs.
They give away hundreds of billions to save banks while borrowing from those under even worse terms. In other words, they convert private debt into fiscal deficit. Their aim is to decrease the value of our labour, and make once more the Western economies competitive to the Eastern ones. Thus, we will either be 'chinesized' as workers or, as we're told, we will sink into the abyss. But every one of us knows very well already that we are in complete darkness of insecurity, poverty, misery; we count up the scarce money in the wallet each time we go to the supermarket and agonize over whether we will make it to the end of the month.
The road to solution is known: collective struggles in workplaces and in our neighbourhoods. Let's make the class syndicates and the neighbourhood assemblies our weapon against the dictatorship of the monopolies. Do not let a single drop of life be wasted. Together, we can not only bring things back to a previous situation, but fight back and claim what we deserve: everything!
So next time that you will get in despair about how to pay for electricity, how to pay the child's lessons, the food at the supermarket, think that this is not a necessary condition. It all depends on whether you are willing to fight for a change.
We don't owe anything; they owe us!
Wealth belongs to working people; not to the Capital!
TERRORISM IS THE WAGE SLAVERY
WORKER, YOU CAN DO WITHOUT BOSSES
Anarchists' Initiative, Lavrion