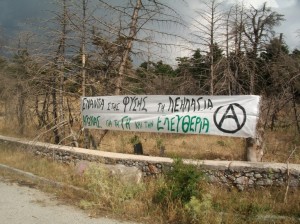 "Against the Looting of Nature-Struggle for land and freedom"
On the weekend of 3rd and 4th of July, as every year since 2007, in the old hotel "Xenia" in the mountain of Parnitha, the two days trek of resistance against the destruction and the looting of the mountain took place, organized by the "Initiative for struggle from Strefi's hill for Land and Freedom" (photos).
A few days later, on Saturday 10th of July, the Police announced that from an investigation that took place at the area of "Xenia", after information received, they found a high-powered improvised explosive device. The day after and given the fact that the bomb was in the hands of the Police, supposedly Christos Loukopoulos gave himself in to the Police. He is an ex-military, ex-bodyguard and involved with the fascist organization Golden Dawn. Immediately after the surrender of Loukopoulos, followed the covering up of the case and its absolute hushing up from the mass media, while the Police attempted a disinformation as regards the real target of this bomb, as well as the diminishing of the case's significance and its potential consequences.
In any case, this fact cannot be bypassed as a random or undistinguished event, the planting of a bomb by a person with Loukopoulos' background, in a place and time commensurate with the carrying out of a two-day political event and its coexistence for two days with dozens of social fighters, with little children among them, as no other aim exists for the bomb which was found at "Xenia" other than the gathering that was taking place there.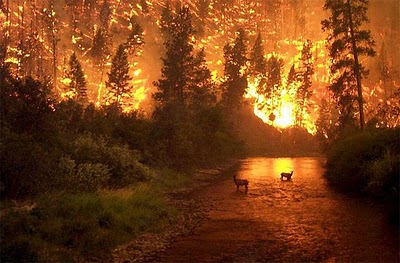 The holocaust of June 27, 2007, was just a single moment of the ongoing destruction and looting of Parnitha through a variety of criminal activities and plans of the political and economic powers, on the mountain.
Three years later, the casino expanded in the heart of the park, military bases and an antenna park occupies the highest peaks of Mount Parnitha and housing settlements spring up within the remaining forests.
Three years later, public forest land in the old royal palace is in sale and the promotion of an industrial zone (Technopolis Acropolis SA) on the eastern slopes of the mountain as well as the installation of wind turbines at the heart of the park is taking place.
Three years later, intervention to the water springs and the paths of the mountain take place altering the physical landscape even further, the building of recreation stores is being planned in the Holy Trinity area, the restriction of free access to the park, the application of a fee to the visitors and the total transformation of the mountain in a suburban park with many commercial uses is taking place.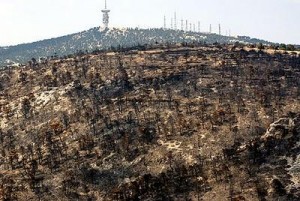 THREE YEARS LATER THE STRUGGLE AGAINST THE DESTRUCTION AND LOOTING OF THE MOUNTAIN CONTINUES…
TWO-DAY RESISTANCE TREK IN PARNITHA
Initiative for struggle for Strefi's hill for LAND and FREEDOM
The text in spanish, portuguese.